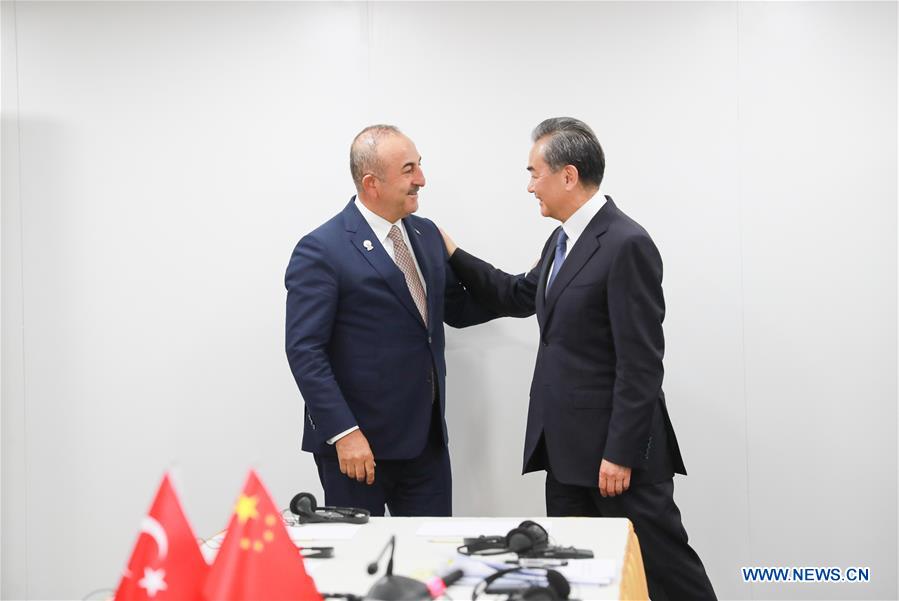 Chinese State Councilor and Foreign Minister Wang Yi met with Turkish Foreign Minister Mevlut Cavusoglu here on Tuesday, pledging to deepen strategic mutual trust.
Wang said during a meeting with Cavusoglu on the sidelines of the ASEAN (the Association of Southeast Asian Nations) foreign ministers' meeting and related meetings, that Chinese President Xi Jinping and Turkish President Recep Tayyip Erdogan have reached important consensus during the latter's recent visit to China, which guided the bilateral relationship.
China is ready to implement consensus reached by leaders of the two countries, strengthen strategic mutual trust with Turkey, enhance counter-terrorism cooperation and continue to support each others firmly on issues concerning core interests and major concerns, said Wang.
He congratulated Turkey on its achievements on Turkey-ASEAN relations with more new friends.
Cavusoglu said President Erdogan's visit to China in early July is very successful and Turkey stands ready to work with China to implement the consensus reached by the two leaders.
Turkey will also work China to give full play to the role of mechanisms such as inter-governmental cooperation committee, as to boost cooperations on areas including economy and trade, security, high-speed railways, nuclear power, aviation and culture, and bring China-Turkey relations to a new high.
Established in 1967, ASEAN groups Brunei, Cambodia, Indonesia, Laos, Malaysia, Myanmar, the Philippines, Singapore, Thailand and Vietnam.
Please
contact us
in case of Copyright Infringement of the photo sourced from the internet, we will remove it within 24 hours.