Tanzania
is welcoming more Chinese companies to invest in the country's pharmaceutical manufacturing industry, which enhances accessibility and affordability of medicine, Tanzanian Health Minister Ummy Ali Mwalimu said.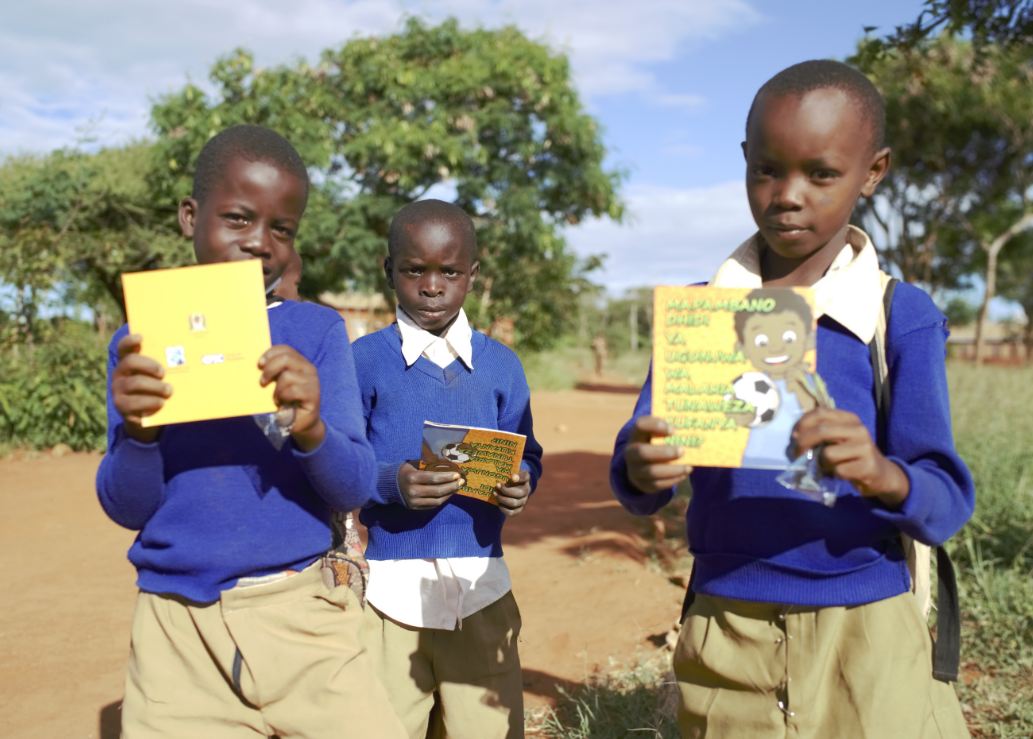 African children in Tanzania hold free anti-malaria brochures on the World Malaria Day on April 25. [Photo provided to China Daily]
She delivered the speech at a symposium during the High-Level Meeting on China-Africa Health Cooperation, which took place during Aug 17-19 in Beijing.

Mwalimu said that pharmaceutical products from China in 2017 accounted for almost 25 percent of the total pharmaceutical imports in Tanzania.

One of the outcomes of the cooperation between China and Tanzania in pharmaceuticals over past years is that Tanzanian people can buy medicine at a lower price.

"The price of health commodities has been reduced by about 40 percent," she said. "For example, we used to buy some medicine, let's say one dose for $1,000. Right now, since we have decided to buy directly from Chinese manufacturers, we get it for $600."

The time spent on delivering of health commodities has been reduced, too. Previously, it took up to six to nine months for people to get products in Tanzania. Now, however, medicine can be obtained within three months.

Despite imports from other countries, African countries, such as Tanzania, are seeking to develop local pharmaceutical manufacturing industries.

With a population of 1.2 billion people, Africa continues to face the biggest global health challenge today, including HIV/AIDS, malaria, and other non-communicable diseases.

At the same time, Africa's population is expected to more than double by 2050 with accelerated urbanization. This population growth, doubled with continued economic development, will create significant demand for pharmaceuticals, as well as other health products.

One of the factors that currently hinders African countries' ability to adequately address the high disease burden and improve their overall health system is the high import dependency, according to Jane Xing, deputy director of the Bill & Melinda Gates Foundation China Office.

"For example, imports account for 85 percent of the pharmaceutical products in Ethiopia. In Kenya, a country that has the most developed pharmaceutical local manufacturing industry in East Africa, import dependency still stands above 70 percent," she said at the symposium.

What African countries can do, she suggested, is to invest in enablers for sustainable industry development with a strong focus on quality and affordability, including strengthening the regulatory capacity of governments to make sure companies are able to do business in a healthy manner.

With its experience gained from decades-long efforts of building a domestic pharmaceutical and healthcare product industry, China can also potentially play a unique role in supporting Africa to develop its own pharmaceutical industry.

"The China-Africa collaboration could potentially include sector development planning, regulation, industrial infrastructure and investment promotion," Xing said.

In 2014, China became the second-largest pharmaceutical market in the world.
Please
contact us
in case of Copyright Infringement of the photo sourced from the internet, we will remove it within 24 hours.