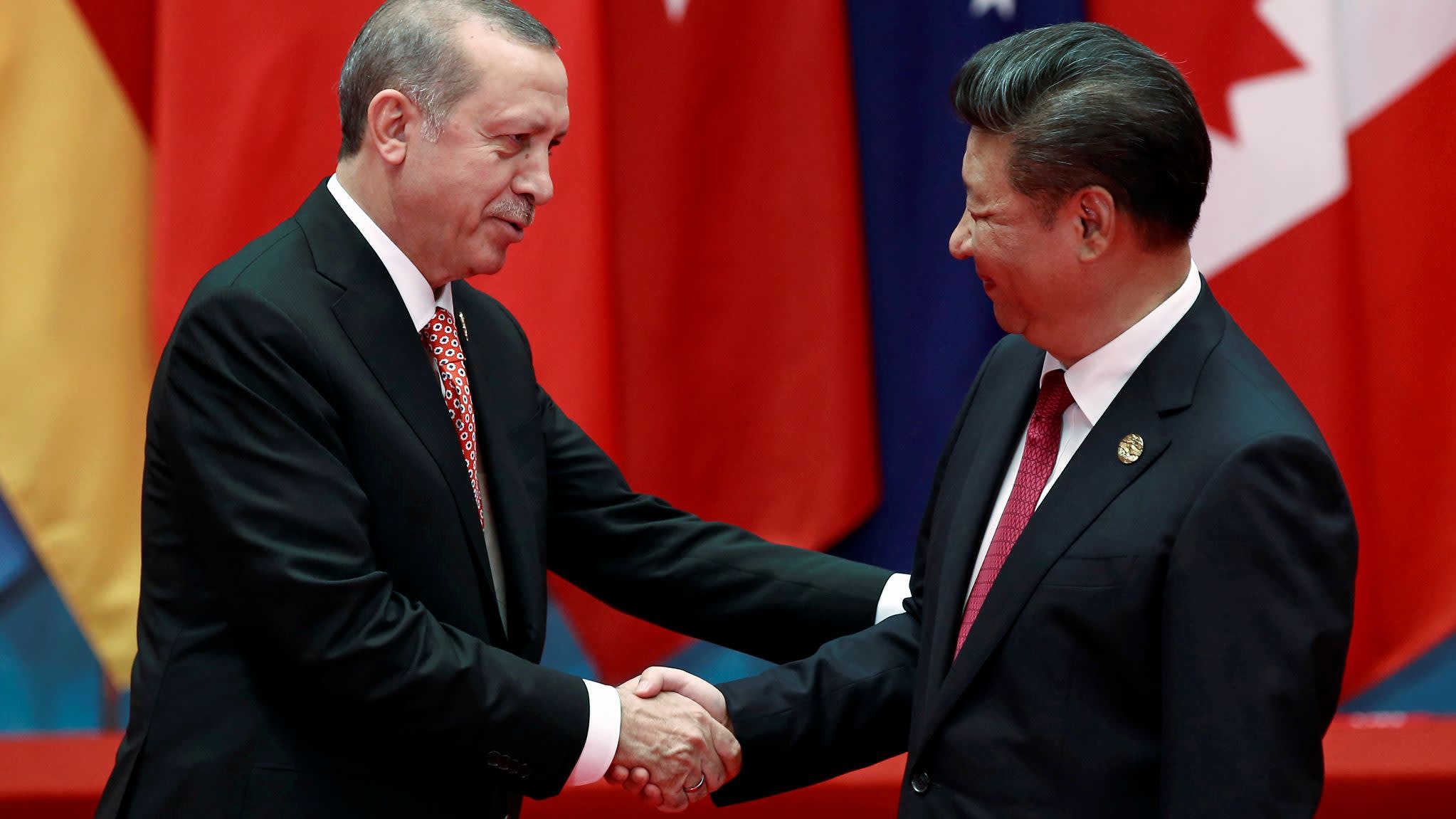 Turkish President Recep Tayyip Erdogan, left, seen meeting with counterpart Xi Jinping,
is relying on Chinese funds to keep his country's vulnerable economy afloat. © Reuters
China is coming to Turkey's aid during its economic crisis with $3.6 billion in funding for infrastructure projects, leveraging Ankara's conflict with Washington to expand its Belt and Road Initiative in the key country that links Asia with Europe.
Turkish President Recep Tayyip Erdogan said Aug. 11 that his country was preparing to trade through national currencies with partners like China, bypassing the U.S. dollar. The U.S. placed additional tariffs on Turkey the next day as a feud simmered over the imprisonment of a U.S. pastor accused of being involved in the 2016 coup attempt against the Turkish leader.
The lira then hit about 7 per dollar, a drop of more than 40% since the beginning of the year. Spurned by one of the world's economic giants, Erdogan naturally turned to another, China, for much-needed financial backup.
The Turkish president had met with his Chinese counterpart, Xi Jinping at the end of July at the BRICS summit in South Africa. Xi called Beijing and Ankara "natural partners" for his Belt and Road Initiative to create a vast economic zone spanning from China to Europe, and pushed for an early launch of major cooperation projects.
Meanwhile, Yui Huiman, Chairman of the State-owned Industrial and Commercial Bank of China, visited Turkey to approve funding for two major infrastructure projects. The bank will furnish $2.4 billion to refinance major highway and suspension bridge projects in the country's west. It will also provide $1.2 billion to improve a gas storage facility at Turkey's state-run gas and oil shipper.
China's state-owned banks are actively investing in developing Belt and Road infrastructure projects, and there appears to be more room to invest in Turkey.
Ankara is thought to require more than $200 billion in the next year for such obligations as paying off short-term debts and plugging the current-account deficit. The country's bonds are already speculative grade, and its credit has fallen significantly. The U.S. Congress is also considering legislation that would restrict loans from international financial institutions to Turkey.
Diversifying the country's financing has become an urgent task for Erdogan, who said earlier this month that Turkey plans to issue yuan-denominated bonds for the first time.
Overseas investors are shunning the country, not only because of its soured relations with Washington, but also due to concerns about human rights and press freedom under Erdogan. Foreign direct investment in 2017 fell for a second straight year, sinking 16% to $10.9 billion.
Without the prospect of American and European funds, Turkish companies are now relying on Chinese money. Chinese companies are also interested in the opportunity to expand into the country.
Turkey's leading e-commerce website, Trendyol, agreed in June to accept a $728 million investment from China's Alibaba Group Holding. In the same month, Turkish Airlines said it would set up a home delivery joint venture with China's ZTO Express and others. ZTE, China's embattled smartphone maker, completed a takeover of Turkish peer Netas last year. Huawei is also working with Turk Telekom Group to build a next-generation 5G network in the country.
Aside from Chinese help, Erdogan is calling on his own people to prop up the home currency. "If there is anyone who has dollars or gold under their pillows, they should go exchange it for liras at our banks," he told a crowd Aug. 10 in the northern province of Bayburt.
He added that this is a "national, domestic battle" and that the best resistance against those waging "economic war" against Turkey would be to buy the home currency.
"Free borek [a filled Turkish pastry] with a receipt showing $1,000 converted to Turkish lira," read a banner at a restaurant chain in Istanbul, the country's largest city.
The 32-year-old owner said he wants to encourage people to exchange their money and protect Turkey from fluctuations in foreign exchange. About 80 people at 20 restaurants have taken up the offer since Saturday, with receipts showing more than $530,000 exchanged.
Promotions to prop up the home currency are appearing at more shops, offering rewards ranging from electronics to vegetables. The lira has recovered to around 6 per dollar after hitting a low of 7.2 on Aug. 13 thanks to such policies as the central bank's monetary tightening.
The government also encouraged people to buy lira last year when it was trading at around 3 per dollar. One 28-year-old office worker exchanged more than $40,000 at the time, an investment that is now in the red.
"I don't plan on exchanging money this time," he said.
Please
contact us
in case of Copyright Infringement of the photo sourced from the internet, we will remove it within 24 hours.