Deal-making activity will pick up now that the country's 19th Party Congress is over, ending a wait-and-see period leading up to the event, said Carl Chien, JPMorgan Chase & Co. Asia Pacific vice chairman. Look for increased activity in the tourism and airline sectors, he said.
"A lot of the question marks and uncertainties are behind us," said Chien in an interview on the sidelines of the APEC summit in Vietnam. "We'll be able to see activities happening which weren't happening in the first half of the year."
His outlook follows President Xi Jinping's promise last week that the nation will take "big strides in reform" in coming years and that foreign companies will see a more transparent and orderly business environment. In a major step on Friday, China said it will remove foreign ownership limits on banks, giving global financial companies unprecedented access to the world's second-largest economy.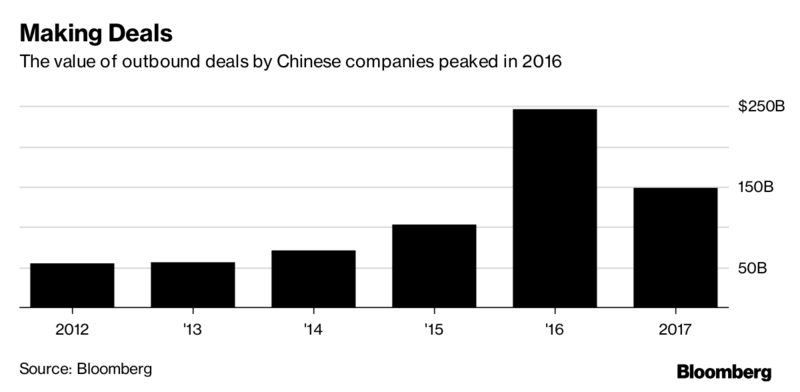 There is still progress to be made to improve the deals environment. U.S. President Donald Trump's visit to Beijing yielded few concrete concessions on addressing a yawning trade deficit. While the White House unveiled a slew of deals with a $250 billion price tag, many were non-binding memoranda of understanding that may never materialize.
Still, the latest reforms further bolster the credentials of Xi less than a month after he cemented his status as the nation's most powerful leader in decades. The Party Congress projected an image of strong leadership, Chien said.
"The 19th Congress gave us a lot of stability," he said. "It's a good thing for the market."
Chinese companies have announced a total of $149 billion in deals involving foreign targets so far in 2017, a 39 percent decline from $246 billion last year. One of the largest is a $12 billion buyout of Singapore warehouse operator Global Logistic Properties Ltd. by a consortium that includes Bank of China Group Investment and a unit of China Vanke Co.
Chien believes industries related to China's push for infrastructure investment, dubbed the Belt and Road initiative, will be key drivers for deals. And activity should also heat up for hotels, travel agencies and online booking systems as the nation's middle class expands.

Chinese firms sealed several notable tourism-related deals last year, including Ctrip.com International Ltd.'s 1.4 billion pounds ($1.8 billion) acquisition of Skyscanner Holdings Ltd. and China Life Insurance Co.'s $2 billion purchase of a stake in Starwood Capital Group's U.S. hotels portfolio.
"As China gets wealthier, people demand quality of life. They want to see the world," said Chien. "The vast majority of the people who do not speak the language – you need to have a full chain to service the needs of these people."

Source: Bloomberg
Please
contact us
in case of Copyright Infringement of the photo sourced from the internet, we will remove it within 24 hours.