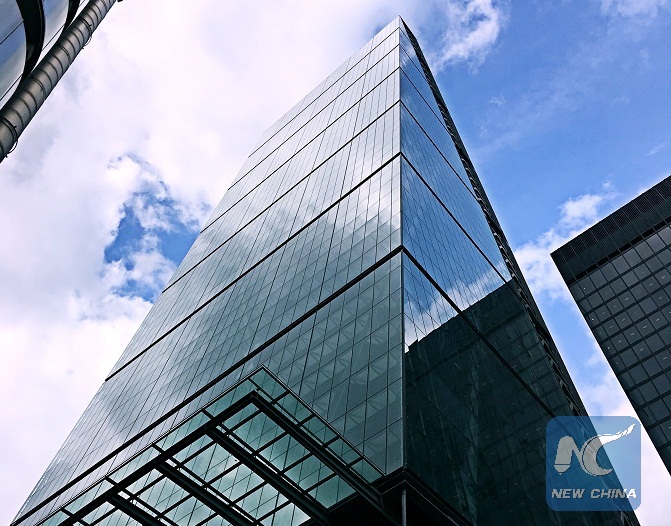 CC Land Holdings Ltd, a firm run by Chinese property tycoon Cheung Chung-kiu, has agreed to buy the city's "Cheesegrater" skyscraper for 1.15 billion pounds (1.49 billion U.S. dollars), the company announced Tuesday.
In an announcement released by the Hong Kong-based developer, the company announced the acquisition of the Leadenhall Building, the tallest building in the city of London, which is known as the Cheesegrater because of its wedge shape.
The commercial tower has over 46 floors and approximately 610,000 square feet of office and retail space.
The building's tenants include a number of major international insurance companies as well as financial institutions, technology, and professional service businesses. The current annual rental income of the building is approximately 40.2 million pounds (51.9 million dollars).
CC Land bought the property from the developer behind the 224-meter tower, British Land, and its joint venture partner Oxford Properties, the global property arm of a Canadian pension fund.
The deal is the biggest sale of a single building in the UK since 2014, when the HSBC tower in Canary Wharf was sold to Qatar's sovereign wealth fund for 1.18 billion pounds. It is also one of the biggest Chinese purchases of British property.
CC Land said the acquisition of the building was in line with the group's business strategy to invest in quality property developments in mature cities globally, as it is an iconic and award-winning building situated in the prime financial and insurance districts of London.
"Completed in 2014, the Leadenhall Building is a world class skyscraper and office tower boasting an impressive lease portfolio commanding strong recurring rentals and will be held by the group as an investment property for long term capital growth. It is expected that the Leadenhall Building will generate a stable and strong recurrent income," said the announcement. (1 pound = 1.29 U.S. dollars)

Source: Sourcing:Xinhuanet
Please
contact us
in case of Copyright Infringement of the photo sourced from the internet, we will remove it within 24 hours.