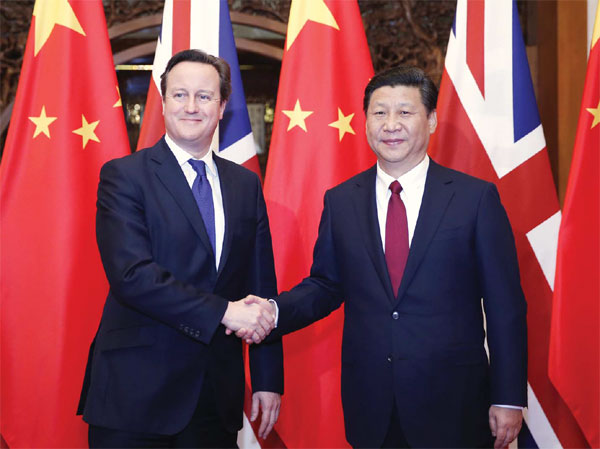 President Xi Jinping meets with British Prime Minister David Cameron in Beijing
in December 2013. Xi arrives in London on Oct 19.
After 43 years of full diplomatic ties, China and Britain are entering a "golden era of relations", with trade, investment, culture and education exchanges all on the rise, according to analysts. Leaders in both countries have used the term, including British Prime Minister David Cameron in his Chinese New Year speech this year, in which he predicted greater cooperation over the next five years.

President Xi Jinping's visit, from Oct 19 to 23, will be the first by a Chinese president in 10 years. In March, Prince William, the Duke of Cambridge, visited China carrying an invitation to Xi from his grandmother, Queen Elizabeth II. It was seen as the most important royal visit to China in nearly 30 years.

But what exactly does this mean for the countries and their people?

From a business perspective, industry experts say this signals a common interest in increased bilateral trade and more employment opportunities, stimulating further recovery in the British economy.

"The UK's trading partnership with China is of critical importance to our economic future," says Simon Moore, international director of the Confederation of British Industry, the UK's top business lobbying organization. "President Xi's state visit is a timely sign of the ever-deepening importance of that relationship, and will help further strengthen the trading bonds that link our two countries."

The nations already have strong trade links. China is Britain's fourth-largest trading partner. Britain is China's second-largest trading partner in the European Union.

According to the Chinese embassy in London, bilateral trade quadrupled between 2004 and 2014 from $19.7 billion to $80.9 billion. China-UK trade in goods totaled $36.74 billion in the first half of this year.

By last year, Britain's car exports to China had increased sevenfold since 2009, according to the British Society of Motor Manufacturers and Traders.

Bilateral investments also have boomed. By the end of last year, British direct investment had reached almost $20 billion in China with over 7,000 projects. Britain is the EU's second-largest direct investor in China. "The UK is the top destination for Chinese foreign direct investment in Europe," the CBI's Moore says.

China has invested more than $40 billion in Britain, according to the Chinese embassy. It went from $100 million in 2004 to more than $7 billion in 2014.

Xinhua
Please
contact us
in case of Copyright Infringement of the photo sourced from the internet, we will remove it within 24 hours.