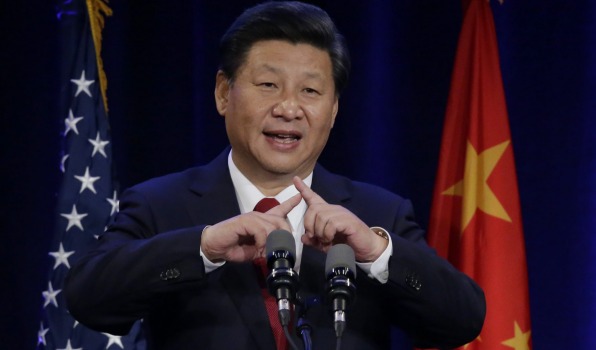 Chinese President Xi Jinping talks about how the Chinese symbol for
the word "people" resembles two sticks supporting each other at a banquet in Seattle.
Chinese President Xi Jinping, meeting a group of US and Chinese business leaders representing $US3 trillion ($4.3 trillion) in market value, vowed to push ahead with reforms to expand trade ties and touted the resilience of his country's economy.

Some 65,000 US companies had invested a total of $US76 billion in China as of the end of August, Mr Xi told the trans-Pacific gathering of 30 corporate leaders at a Seattle hotel on the second day of his US state visit. The president said 1,600 Chinese companies were operating in the US, creating 80,000 full-time jobs.

"China-US business cooperation has enormous potential," said Mr Xi, who's confronting slowing economic growth and a slumping stock market at home. "We are clearly aware of the risks and challenges in the Chinese economy," he said, reiterating assurances that "the fundamentals of the Chinese economy are good and sound."

Attendees at the gathering Wednesday included the chief executive officers of some of the most visible brands of both nations, including Apple and Disney, Alibaba and Lenovo. Such companies helped fuel $US621 billion in trade between the countries last year. The meeting preceded a summit Friday in Washington with President Barack Obama, during which the two leaders hope to bridge differences on two-way investment.

The US and China have had strained relations over cyber espionage, human rights and market access. While the governments creep further apart on these issues, the two economies have become more intertwined, increasing the importance of cooperation. Mr Xi delivered a speech in Seattle Tuesday in which he sought to ease concerns on many disputes between the two powers, including one of the thorniest issues, cybersecurity.

On Wednesday, Mr Xi looked in on executives and officials attending an annual US-China Internet summit hosted by Microsoft Corporation, telling them in a brief speech that he understood the "very heated and in-depth discussions" had already yielded progress. US technology companies have struggled to operate under China's strict censorship regime. Facebook's social network is blocked and Google pulled its services from the country in 2010. Hardware and software makers faces the prospect of new cybersecurity rules that may require them to open source code to regulators.

Mr Xi exchanged a few words in Mandarin with Facebook CEO Mark Zuckerberg-- wearing a dark suit and red tie -- and shook hands with Apple's Tim Cook, Alibaba Group's Jack Ma and Amazon.com's Jeff Bezos. Most of the sessions were private.

"We really look forward to working with the United States to start a Sino-US digital cooperation plan," Lu Wei, China's chief Internet regulator, told about 200 attendees in opening remarks that were open to the press. "We hope that by doing this, we can support the emerging companies to enter both markets fairly."


Mr Xi also toured a Boeing factory in Everett, Washington, where the aircraft maker unveiled its largest industrial investment in China and $US38 billion worth of jet orders and commitments from Chinese carriers.

The guests at the separate CEO roundtable highlighted the enormous financial stakes in the two governments getting along. They included Walt Disney CEO Bob Iger, whose company is betting Chinese tourists will line up to visit the $US5.5 billion Shanghai Disney Resort scheduled to open next year.

Starbucks founder Howard Schultz wants to sell more strawberry cheesecake frappucinos to China's growing middle class by doubling the number of stores in the country by 2019. And Apple's Mr Cook, who remarked on a recent earnings call how Chinese shoppers buying iPhones and downloading apps doubled his company's revenue in the country that quarter, was also there.

Satya Nadella, who runs Microsoft, attended as well. The world's biggest software maker is under antitrust investigation in China, although it was allowed to begin sales of its Xbox for the first time last September.

Chinese representatives included Alibaba's Mr Ma, whose company is importing Alaskan seafood and Washington cherries to sell to Chinese shoppers in an effort to boost sales of international goods on e-commerce site Tmall. Yang Yuanqing, CEO of Lenovo Group, the personal-computer maker that sees penetrating in the US as key to its global growth ambitions, also attended.

"US and China is the most important bilateral relationship we have in the world today," said Henry Paulson, the former US treasury secretary, whose Paulson Institute, a business research group, hosted the forum with the China Council for the Promotion of International Trade. "Business is the cornerstone of that relationship."

The summit drew some of the wealthiest people in the world, according to the Bloomberg Billionaires Index, to the same room. From the US, the world's third-wealthiest man, Warren Buffett, attended, with the seventh-wealthiest, Amazon.com founder Mr Bezos. Mr Buffett counts on goods from China to fill freight trains owned by his company, Berkshire Hathaway. Mr Bezos invested in a Chinese expansion, but has since set his sights on India.

Financial Review
Please
contact us
in case of Copyright Infringement of the photo sourced from the internet, we will remove it within 24 hours.