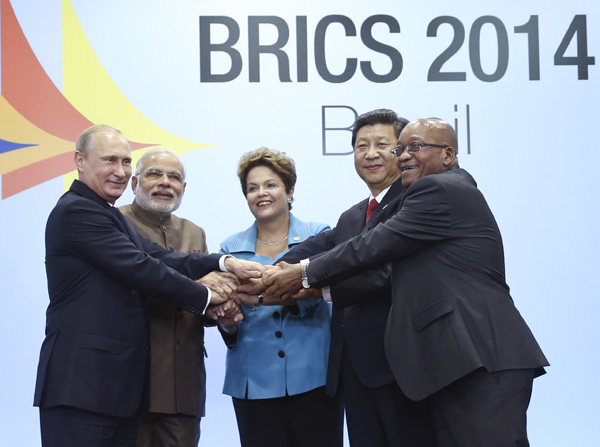 (L-R) Russian President Vladimir Putin, Indian Prime Minister Narendra Modi, Brazilian President Dilma Rousseff, Chinese President Xi Jinping and South African President Jacob Zuma smile at a group photo session during the sixth BRICS summit in Fortaleza July 15, 2014. [Photo/Xinhua]

The emerging-market bloc of BRICS on Tuesday vowed to strive for more comprehensive cooperation and forge a closer economic partnership.
Since its inception, the grouping of
Brazil
, Russia, India, China and South Africa has been guided by the overarching objectives of peace, security, development and cooperation, they noted in a declaration following their sixth summit in Fortaleza city.
Looking into the future, they pledged to "deepen our partnership with a renewed vision, based on openness, inclusiveness and mutually beneficial cooperation" while remaining committed to those objectives.
"In this sense, we are ready to explore new areas towards a comprehensive cooperation and a closer economic partnership to facilitate market inter-linkages, financial integration, infrastructure connectivity as well as people-to-people contacts," said the Fortaleza Declaration.
Highlighting their commitment to raising their economic cooperation to a qualitatively new level, they emphasized the importance of establishing a road map for intra-BRICS economic cooperation.
They agreed to advance discussions on the proposals for a BRICS economic cooperation strategy and a framework of BRICS closer economic partnership with a view to formulating a plan for endorsement by the next summit.
Noting that further macroeconomic coordination among all major economies, particularly in the Group of 20 (G20), remains a critical factor for strengthening the prospects for a vigorous and sustainable recovery worldwide, the BRICS countries pledged to work with the global community to "foster financial stability, support sustainable, stronger and inclusive growth and promote quality jobs."
The BRICS stands ready to "contribute to the G20 goal of lifting our collective GDP by more than 2 percent above the trajectory implied by current policies over the coming five years, " said the declaration.
In a show of its openness to increasing engagement with other countries, particularly developing countries and emerging market economies, they said they "will hold a joint session with the leaders of the South American nations ... with a view to furthering cooperation between BRICS and South America."
"We reaffirm our support for the South American integration processes. ... We believe that strengthened dialogue among BRICS and South American countries can play an active role in enhancing multilateralism and international cooperation," added the document.
They noted that the world is confronted with persistent political instability and conflict in various global hot-spots and non-conventional emerging threats, but the current international governance structures are showing increasingly evident signs of losing legitimacy and effectiveness.
"We believe the BRICS are an important force for incremental change and reform of current institutions towards more representative and equitable governance, capable of generating more inclusive global growth and fostering a stable, peaceful and prosperous world," said the Fortaleza Declaration.

China Daily
Please
contact us
in case of Copyright Infringement of the photo sourced from the internet, we will remove it within 24 hours.