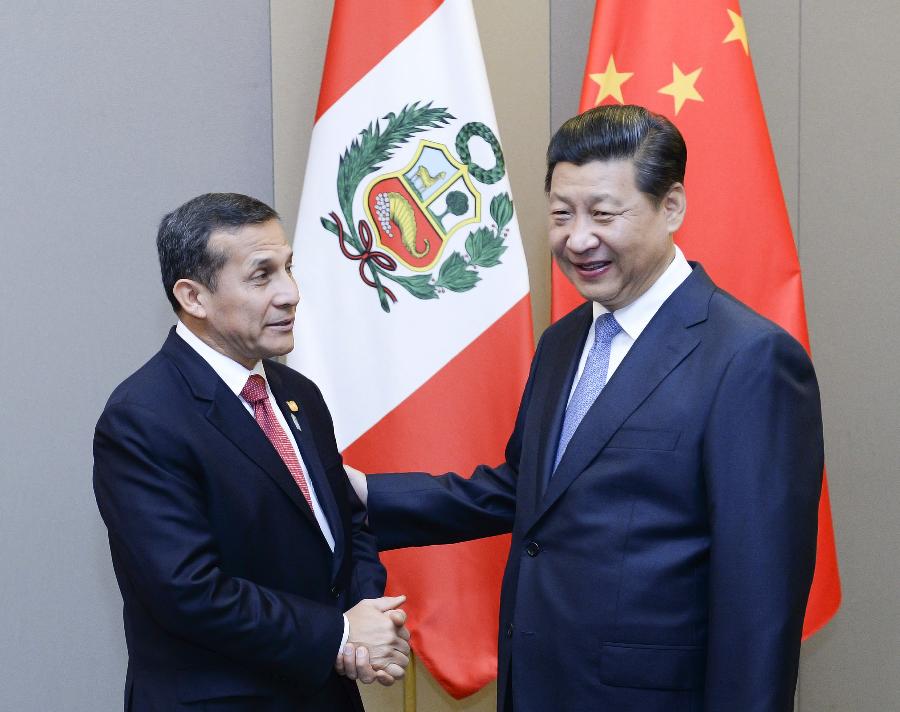 Chinese President Xi Jinping (R) meets with Peruvian President Ollanta Humala in Brasilia, Brazil, July 16, 2014. (Xinhua/Liu Jiansheng)
Chinese President Xi Jinping met with Peruvian President Ollanta Humala in Brasilia Wednesday and the two agreed to further promote cooperation between their countries.
China-
Peru
relations have witnessed positive progress, with bilateral cooperation picking up momentum at multiple levels and in various fields, since the two sides elevated their relationship to a comprehensive strategic partnership during Humala's visit to China in April 2013, Xi said.
China, Xi added, attaches strategic importance to its relations with Peru and is willing to maintain high-level contact as well as governmental, parliamentary, party-to-party and sub-national exchanges and cooperation with the South American country.
The Chinese president suggested that the two sides make full use of their cooperation mechanisms to actively push forward bilateral cooperation in such fields as energy, mining, agriculture and infrastructure construction, and strengthen people-to-people exchanges.
Beijing supports Lima in hosting the 20th session of the Conference of the Parties to the United Nations Framework Convention on Climate Change (UNFCCC), Xi added.
Stressing that China attaches great importance to the mutually beneficial cooperation in infrastructure construction with Latin American countries, Xi noted that China, Brazil and Peru will issue a joint statement later in the day on their cooperation in building a railway across the South American continent.
Xi proposed that the three countries set up a joint work group to navigate their cooperation in all related aspects, including the planning, design, construction and operation of the transcontinental rail.
China, he said, stands ready to maintain communication with Peru and Brazil on the railway project, which will run all the way from the Peruvian Pacific coast to the Brazilian Atlantic coast.
For his part, Humala said China is an important partner of his country and strengthening ties with the Asian giant is a priority in Peru's foreign policy.
Peru is willing to work with China to deepen political trust, strengthen cooperation in areas such as energy, mining, hydro-electricity and infrastructure, and promote people-to-people and education exchanges, he said, adding that Lima encourages more young Peruvians to learn the Chinese language and understand China.
The Peruvian leader also expressed readiness to work with China and Brazil on the transcontinental railway project for the benefit of all the three peoples.
Lima, added the president, hopes to cooperate with Beijing to strive for positive results at the upcoming UNFCCC conference.
Calling Peru an important country in South America, Xi said China is willing to make joint efforts with Peru and other members of the Community of Latin American and Caribbean States (CELAC) to turn the soon-to-be-launched China-CELAC forum into a success so as to advance the overall cooperation between China and Latin America.
China also stands ready to enhance cooperation with Peru under the framework of the Asia-Pacific Economic Cooperation (APEC), added the Chinese president.
Peru supports and welcomes the upgrading of China-Latin America cooperation, and will play an active part in the China-CELAC forum, Humala said, adding that he is looking forward to traveling to China in November for the APEC leaders' meeting.
Xi is in Brasilia for a state visit to
Brazil
, where he has taken part in the sixth summit of the emerging-market bloc of BRICS and is also scheduled to attend a China-Latin America summit.
Brazil is the first leg of Xi's ongoing Latin America tour, which will also take him to Argentina, Venezuela and Cuba.

Xinhua
Please
contact us
in case of Copyright Infringement of the photo sourced from the internet, we will remove it within 24 hours.