Chinese, U.S. presidents pledge to advance cooperative partnership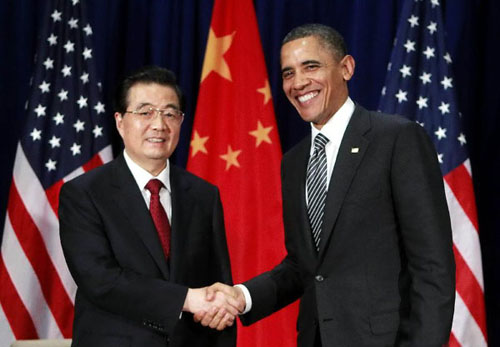 Chinese President Hu Jintao (L) meets with U.S. President Barack Obama(R) in Honolulu, Hawaii, the United States, on Nov. 12, 2011.
Chinese President Hu Jintao and his
U.S.
counterpart Barack Obama met here Saturday to discuss bilateral ties and agreed to work together to continuously strengthen the China-U.S. cooperative partnership.
The presidents met on the sidelines of the 19th Economic Leaders' Meeting of the Asia Pacific Economic Cooperation (APEC) forum.

Hu said that strengthening cooperation is the sole right choice China and the United States could make."Developing the China-U.S. cooperative partnership based on mutual respect and mutual benefit is a major decision that China and the United States made in accordance to their common interests, responsibilities and strategic judgment," Hu said.

He said the two countries should earnestly strengthen their cooperative partnership and strive to maintain a stable growth momentum of their bilateral ties.

The Chinese president noted that China-U.S. relations have entered another critical period. He said both sides should promote cooperation at bilateral, regional and global levels to achieve more substantial results and ensure the steady development of China-U.S. ties.

Hu also made a three-point proposal on advancing China-U.S. relations.

First, he said, China and the U.S. should become cooperative partners that respect and trust each other.

The two nations should strengthen exchanges of high-level visits, dialogues and consultations at all levels and in various areas, Hu said. They should judge each other's strategic intentions and policy directions in an objective and rational way, Hu said, while continuously enhancing strategic mutual trust.

Secondly, China and the U.S. should forge a mutually beneficial and reciprocal cooperative partnership, he said.

Both nations should strengthen economic and technological interaction and facilitate cooperation between the enterprises of both countries.

They should also actively explore new paths and expand new areas of bilateral economic and trade cooperation and try to solve problems through equal consultations in the process of expanding mutually beneficial cooperation, Hu said.

Thirdly, China and the U.S. should become cooperative partners "in the same boat" and pull together in times of trouble.

The two nations need to join hands to deal with the current global economic situation, play a constructive role, boost market confidence and support the common goal of promoting growth and ensuring stability, Hu said.

Both countries, the Chinese president said, should also make full use of bilateral channels and multilateral mechanisms to enhance coordination in dealing with regional and global issues.

Meanwhile,Hu said bilateral coordination and cooperation in global and regional affairs is an important pillar of the China-U.S. cooperative partnership, and Asian-Pacific affairs should become the focus of their cooperation.

Obama said the U.S. is ready to work with other countries to overcome the current difficulties in the world economy and push for strong, sustainable and balanced economic growth around the world.

Xinhua News
Please
contact us
in case of Copyright Infringement of the photo sourced from the internet, we will remove it within 24 hours.