Ambassador Courtney Rattray was excited at the prospect of being posted to China because that country's rapidly emerging status on the world stage suggested that it would remain at the forefront of international economical development for a long time to come.

To his home country's benefit, Rattray's foresight has proven true almost three years into the job. Indeed, with Rattray as its man in China, Jamaica has skilfully managed its bilateral relationship with the fast rising world power.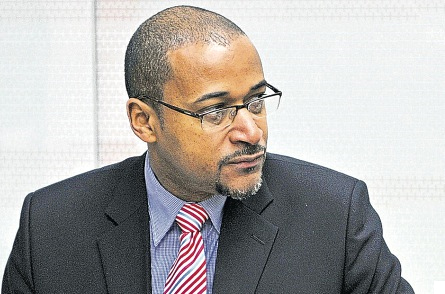 RATTRAY... We are shifting our economic engagement with China from a development loan paradigm to a direct-investment model.
Rattray, whose time in the Jamaican Foreign Service has spanned two decades, can identify Jamaican development-oriented-projects that he and his team in Beijing were instrumental in negotiating.

"We have actively collaborated with China in developing and upgrading the critical competitiveness drivers such as our roads, telecommunications network, port and airport facilities, affordable housing stock and our water and wastewater systems," he says.

As he sees it, improved physical infrastructure acts as "force multipliers" in terms of economic impact.

He however explains that having achieved much in this respect, the Jamaica /China economic engagement needs to change focus.

"We are shifting our economic engagement with China from a development loan paradigm to a direct-investment model," he notes.

Making the point that although the assistance geared towards Jamaica's infrastructural development is welcomed, Rattray explains that, "Jamaica's macro-economic imbalances require that we focus creating public/private partnerships and the attraction of equity-based direct investments."

As he also explains, the recent sugar sector acquisition made by the Chinese firm COMPLANT, is an example of the paradigm shift. Previously the company provided the construction services for the Trelawny multi-purpose stadium and the Montego Bay Convention Centre.

"They are now, however, investing their own capital in areas of our economy where it is felt could make a meaningful return," the Ambassador explains.

Preparation of Chinese market for Jamaican premium coffee
Another exciting development in the Jamaica/China relationship, is the now-in-process preparation of the Chinese market for Jamaican premium coffee. Ambassador Rattray explains that an intense marketing campaign has been embarked upon. This campaign includes educating the Chinese public on the pedigree; historical antecedents, geographical areas of cultivation, methods of production and quality assurance systems of Jamaican coffee has been embarked upon.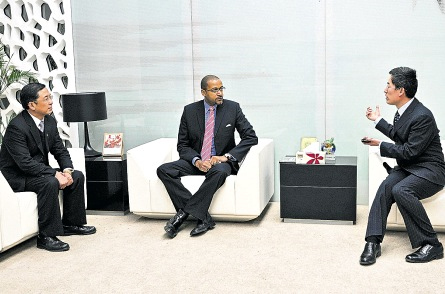 Ambas
sador Courtney Rattray (centre) in talks with potential investors during a visit to Nanjing, China in December.
"We are forging a partnership with the prestigious National Museum of China. In conjunction with the Coffee Industry Board, we intend to establish a permanent Jamaica Blue Mountain Coffee culture display at the museum, while also offering it for sale there," says the ambassador.

He also discloses that the Jamaica Coffee Industry Board has permanently positioned someone in Beijing to spearhead the market preparation efforts.

The Embasssy has also been instrumental in garnering collaboration between the Jamaican and Chinese firms in the areas of renewable energy and Information Communication Technology (ICT).

"We have had successes in matching Chinese renewable energy companies with companies in Jamaica seeking to provide alternative energy choices to Jamaica's household electricity consumers and industrial end-users," Rattray reveals.

He also discloses that talks are currently underway with Chinese telecommunications companies, aimed at engineering a financing model that would make Chinese technology more economically viable and available to both the Jamaican public and private sectors. This enhancement of our human capital, he explains, together with the improved physical infrastructure, will strengthen Jamaica's national competitiveness.

"Our human capital is being strengthened as a result of the opportunities for technological transfer that our partnership with China in this area brings," he says.

Reciprocity: Important in any bilateral relationship
Although Jamaica has managed to leverage the Jamaica /China bilateral relationship to assist in its pursuit of development, Rattray maintains that assistance has to be reciprocal. "Ultimately, the strength and sustainability of any bilateral relationship relies on the extent to which it is mutually advantageous," he says.
To that end, there have been two recent initiatives stemming from what the ambassador sees as his responsibility to devise ways of providing assistance to China. One is the now-in-process UWI summer scholarship English programme for Chinese students, launched this year. The other is the scholarship programme whereby Chinese interns will be placed at a Sandals Resorts property to receive hospitality training.
Both offers were made to the Chinese government during Prime Minister Bruce Golding's February 2010 official visit to Beijing. The hospitality training programme however, has not yet been in implemented.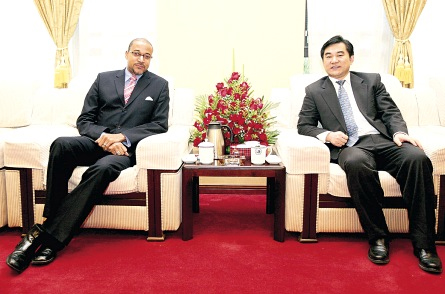 Rattray (left) pose for a photograph with a Chinese businessman in Nanjing before beginning the discussions.
Making the point that the Chinese tourism product caters mostly to the local Chinese market, Rattray outlines the areas in which the Jamaican tourism sector can serve as a model. "China could gain real benefits from the expertise we have developed in destination marketing, hospitality management and in the creation and operation of attractions," he says.

While still on the subject of tourism, the ambassador notes that over the last two years, some 1,000 Chinese have visited Jamaica, with just under 300 visiting as tourists in 2010. Considering the projection made by the China Tourism Academy ( a Chinese Think Tank), that over 57 million Chinese are expected to travel abroad in 2011, spending US$55billion, the ARattraywould like to see the Chinese tourism figures to Jamaica increased.

As he sees it, a major inhibitor of the number of tourists between both countries is the lack of a direct air service. While making the point that a Jamaica/China Air Services Agreement was negotiated in Beijing earlier this year, the ambassador proposes a solution to this dilemma.

"We could partner with other countries in the region to develop multi-destination tourism packages, providing prospective Chinese tourists with the opportunity to visit two or three destinations in the region, as part of a single holiday package," he advises.

The Ambassador notes however that the Chinese prefer to eat the food they are accustomed to having in China, and that they expect to have

"access to Mandarin speaking employees at the hotels, resorts, attractions and various places of interests."

Despite this, the ambassador believes that Jamaica can further capitalise on the success of the 2008 Beijing Olympic Games, which he says propelled Brand Jamaica into the Chinese consciousness.

"This (the Games) has created more awareness about Jamaica within the minds of the ordinary Chinese person."

Another area in which Jamaica can offer its expertise, according to the ambassador, is country branding through music.

"Although China's contemporary music scene is alive and well on the domestic front, it does not enjoy the broad-based international appeal of Jamaican music. There may be opportunities for those involved in our music industry to collaborate with music industry players in China, in an effort to broaden the international appeal of contemporary Chinese music."

Entrepreneurial Spirit: common factor in Jamaican and Chinese nationalities

Interestingly, the ambassador sees one important similarity between Jamaicans and Chinese.

"I think that the average Chinese and Jamaican person is very entrepreneurial at heart, with a knack for business."

It could easily be argued that it is this entrepreneurial spirit, somehow institutionalised and deeply ingrained in the Chinese psyche and culture, which has resulted in the success of the Chinese manufacturing sector.

"The Chinese manufacturing sector is an export juggernaut that has helped to lift millions of people out of extreme poverty," says the ambassador.

Noting that the rate of extreme poverty in China was reduced from 60 per cent in 1990 to 10 per cent in 2010 (World Bank figures), Rattray admires the Chinese government's "ability to devise a credible national development plan and implement it effectively."

He also highlights the transition currently underway in China, where its 12th Five Year Plan emphasises the need for a structural shift in the economy. There is recognition of the need for economic rebalancing, away from an over-reliance on export and investment-led growth towards more inclusive people-oriented growth that is based on increasing domestic consumption," he says.

On the subject of whether or not the Nation State is in retreat, in today's globalised world of powerful Multi National Corporations (MNCs) and Non Governmental Organisations (NGOs), the ambassador maintains that the Nation State is not becoming obsolete.

"It is the Nation State that is tasked with the responsibility of setting the national and international standards and regulations within which MNCs and NGOs and other businesses operate," he says.

Prior to the Foreign Service, Rattray was executive director of the Jamaica Marketing Company (JAMCO), owned by the Government of Jamaica and based in London. While at JAMCO, which was involved in the pricing and sales of Jamaican bananas, Rattray also served as Trade Commissioner. This allowed him to undertake trade and investment promotion activities for the Jamaican Government, beyond the remit of the banana trade.
Please
contact us
in case of Copyright Infringement of the photo sourced from the internet, we will remove it within 24 hours.