COMPLANT International, the Chinese firm that yesterday took control of the three remaining government-owned sugar factories in
Jamaica
, says it has already invested more than US$8 million (J$680 million) in the production of sugar cane since the start of the year.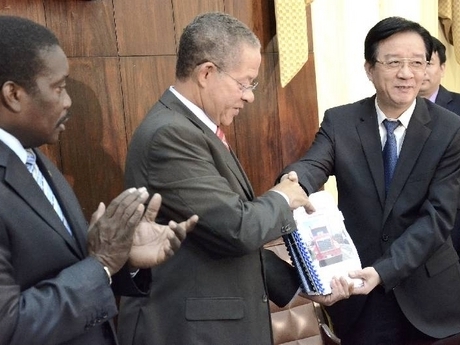 Prime Minister Bruce Golding (centre) presents contracts to Tang Jianguo (right), chief executive
officer of COMPLANT Group of Companies, while Robert Montague, minister of agriculture
and fisheries, looks on after the signing of the COMPLANT sugar agreement between the Government of
Jamaica and COMPLANT International Sugar Company at Jamaica House, St Andrew, yesterday.

In addition, COMPLANT, through its Jamaican subsidiary, Pan Caribbean Sugar Company, has already ordered materials and spare parts valued at US$20 million (J$1.7 billion) to restore and upgrade the Frome, Bernard Lodge and Monymusk sugar estates.

Investment required

Prime Minister Bruce Golding, who also spoke at the handover ceremony, said the improvement and expansion work to be undertaken by COMPLANT will require an investment of more than US$156 million.

In addition, Golding said COMPLANT was already exploring the feasibility of refining sugar in Jamaica.

With the Chinese taking charge of the factories, Golding predicted that the sugar industry would be transformed "at a rapid rate" and appealed to stakeholders to embrace the changes.

The three sugar factories and the lands immediately surrounding them were sold to COMPLANT for US$9 million or more than $700 million in July last year.

Under the deal, the company also secured some 30,000 hectares of cane lands through a 49-year lease agreement, which is renewable for another 25 years.

The Gleaner
Please
contact us
in case of Copyright Infringement of the photo sourced from the internet, we will remove it within 24 hours.