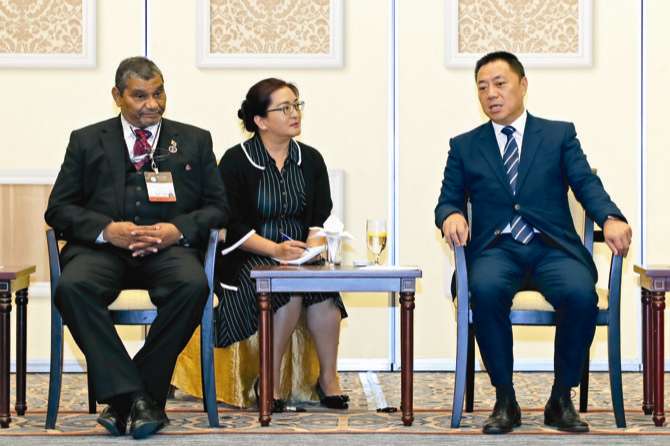 Ragendra de Sousa (left) and the Secretary for Economy and Finance Lionel Leong
The Minister of Industry and Commerce of Mozambique, Ragendra de Sousa, at the 2018 edition of the Macau International Fair (MIF), called on China to invest in his country, in areas ranging from agriculture to forestry to infrastructure projects.
On his first visit to the MSAR, Sousa told Macauhub he was impressed by the level of development in Macau, which this year welcomed Mozambique as a guest country at MIF, which took place between 18 and 20 October.
At the opening of a forum dedicated to Mozambique and Fujian, a Chinese province also showcased at this year's MIF, the Mozambican minister invited the audience of investors "to jointly produce food for humanity."
"Mozambican agricultural resources are available to Mozambicans, but also to any investor in this audience," said Ragendra de Sousa.
The minister also extended the invitation to "sustainable forestry – not raw but processed, and for investors also to replace the felled trees."
Chinese investment can also be channeled into shipping, he said, as the country prepares to start producing liquefied natural gas and "in the next 7 to 10 years" to become one of the world's largest producers of this raw material.
"We want to export gas, but we also want to develop our petrochemicals. We have almost signed contracts to produce fertilizers, fuels and the entire chain of the petrochemical industry," said Sousa, who said the country was ready to consider development proposals downstream from oil exploration.
Investment opportunities in Mozambique were outlined by Lourenço Sambo, president of the Mozambican investment promotion agency (Apiex), who detailed projects planned for real estate, transport, mining, among other areas, and for which the Government is seeking investors.
At the opening of the event, Mozambican ambassador to Beijing, Maria Gustava, told Macauhub she expected the highlight of MIF 2018 would be to deepen "knowledge about the reality and potential that the country offers in terms of business and investment for Chinese businesspeople and also for entrepreneurs of other Portuguese-speaking countries."
Mozambique was represented at the PLPEX by government and municipal entities, as well as by a diverse range of companies, from safari tourism to food, clothing and handicrafts.