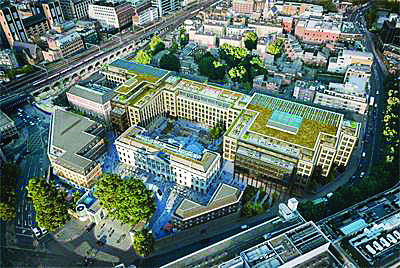 This complex of buildings will be the new home of China's UK embassy. For China Daily
Chinese outbound foreign direct investment dramatically veered away from the United States and Canada and toward the United Kingdom and the rest of Europe in the first half of this year, according to new research.
Completed Chinese investments in Europe in the first half of 2018 reached $12 billion, up 4 percent on the same period last year, while investment into North America was down 92 percent, to $2 billion, according to a study by London law firm Baker McKenzie and US-based analysts Rhodium Group.
The year-on-year percentage increase for Europe excludes one unusually large deal in 2017 – the $43 billion acquisition of Swiss biotechnology company Syngenta by ChemChina, which was left out so it did not skew the data.
Thilo Hanemann, director of Rhodium Group's cross-border investment practice, said: "After five years of similar investment levels in Europe and North America, Chinese investors are now clearly favoring Europe. Regulatory hurdles remain lower, political relations are more predictable, and Europe offers a great base of industrial high-tech assets, which is a good match with Chinese regulators' outbound investment priorities."
Attracting $3.6 billion of investment, Sweden was the largest European destination for Chinese capital in the first half of 2018, followed by the UK, where investment reached $1.6 billion, and Germany, which received $1.5 billion. France saw $1.4 billion. The UK may have pulled ahead of its European neighbors this year in terms of attracting Chinese investment, following two large deals in July that were not completed in time to be included in the study.
Last week, British chipmaker Telit announced the sale of its automotive arm to Hong Kong-based investment holding company TUS International, for $105 million. Telit supplies automotive chips to US-based electric vehicle manufacturer Tesla.
Chinese investment in the UK spiked in early July when Strategic IDC, an Asian consortium that includes investors from China, bought a 24.8 percent stake in London-headquartered data center developer Global Switch, for $2.77 billion.
Baker McKenzie confirmed to China Daily the majority of Chinese investment in the UK during the first half of 2018 came in three major deals. The sale of the former Royal Mint building in London, which is to become the new site of the Chinese embassy was the largest transaction, worth an estimated $970 million.
In March, UK-based medical technology company LivaNova sold its Cardiac Rhythm Management business to Chinese medical devices manufacturer MicroPort Scientific Corporation for a reported $190 million.
And earlier this year, Chinese chemical company Lianhe Chemical Technology completed the $127-million acquisition of UK-based chemical manufacturer Fine Industries.
The law firm said uncertainty about China-US trade continues to influence investors' decisions.
"The scale and speed of the diverging trends revealed by these figures is remarkable," said Thomas Gilles, chair of Baker McKenzie's China Group for Europe the Middle East and Africa. "At the same time, no one should be surprised by the direction of travel – China is actively courting the European Union with offers of reciprocal market access in an attempt to show foreign investment is not a one-way street, while trade relations with the US continue firmly on a downward path."
The industry composition of Chinese investment has also shifted notably in the first half of this year in both Europe and North America, according to the report. Sectors including automotive, health and biotech, and consumer products and services became the top recipients of Chinese foreign direct investment in both regions. The real estate and hospitality sector lost its top spot but still remained a sizeable attractor of Chinese capital.

Source: ChinaDaily
Please
contact us
in case of Copyright Infringement of the photo sourced from the internet, we will remove it within 24 hours.