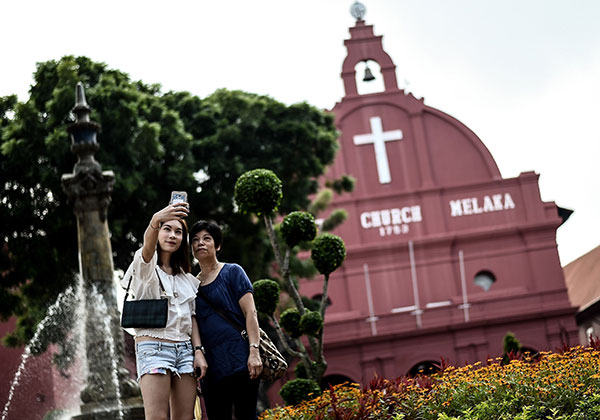 Tourists pose for a selfie in front of the 18th-century Anglican church in Malacca. [Photo/Agencies]
KUALA LUMPUR - Malaysia is open to more value-added investment from China, a senior trade official said here on Tuesday.
"We can see positive dialogue between Jack Ma (founder of Chinese e-commerce platform Alibaba) and our Prime Minister Mahathir Mohamad, indicated that we will welcome many more of these types of value-added investments to Malaysia," said Ong Kian Ming, the newly sworn-in deputy minister of international trade and industry.
Speaking at a press conference after an official handover ceremony by former ministers, Ong cited the positive response to the recent opening of Alibaba Group's office in Malaysia as an example, saying that the investment is good for Malaysian and Chinese companies.
Last month, Alibaba opened its first Southeast Asia office in Kuala Lumpur, the capital city of Malaysia as part of the company's commitment to increasing digital economy in Malaysia and the region.
The new office also marks a new phase of Alibaba's strategic partnership with Malaysia and the development of its first Electronic World Trade Platform (eWTP) facility outside China, the Digital Free Trade Zone (DFTZ).

Source: ChinaDaily
Please
contact us
in case of Copyright Infringement of the photo sourced from the internet, we will remove it within 24 hours.