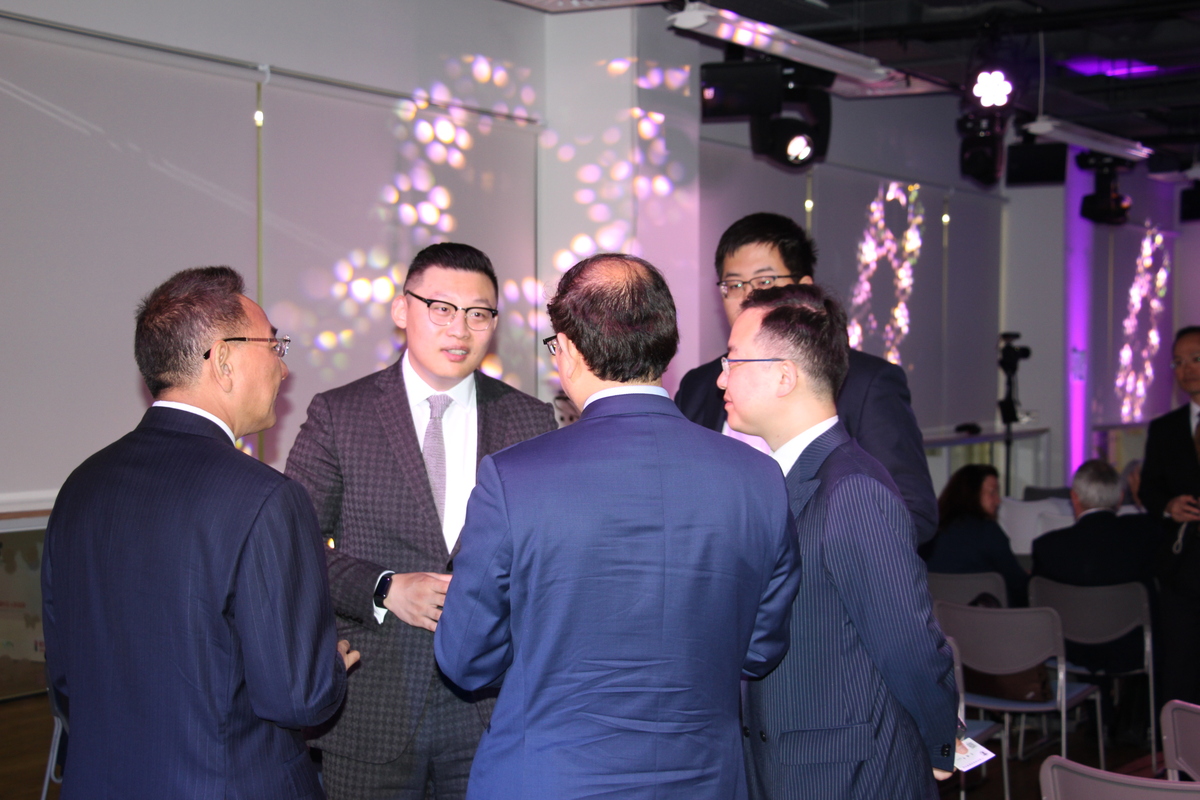 John Zai (second from left ) talks to the participants at China-UK Hi! Tech Festival on Tuesday. Photo provided to China Daily
Chinese investment can play a key role in London's tech sector against the backdrop of the United Kingdom leaving the European Union, said the founder of a Chinese investment group that runs an innovation center in the British capital.
Speaking at the China-UK Hi! Technology Festival, which is part of London Tech Week, John Zai, the chief executive and founder of Cocoon Networks, said: "China's economy is set to become one of the most R&D-intensive in the world within the next 10 years, and collaboration with UK tech companies can offer creativity, innovation, and technology, which Chinese businesses seriously need."
While China has the capital and infrastructure to help innovative UK companies grow and achieve "unicorn status" (valuations of $1 billion), the UK, with its established tech ecosystem, can help China by playing an active role in supporting it as it evolves into the world's biggest tech hub, Zai said.
Cocoon Networks has organized the tech festival for the past two years with the aim of connecting UK startups with Chinese capital. The two-day event is expected to attract more than 1,200 delegates, including representatives from UK businesses, and investors and businesspeople from China.
Zai said it is a good platform for Chinese investors wanting to find UK tech companies in need of investment.
John Liu, managing director of ChinaEquity Group, said: "Among all the UK tech companies; artificial intelligence, healthcare, and cleantech industries are the ones that Chinese investors are most interested in. On one hand, these sectors help to tackle the challenges that China is currently facing, but more importantly, there is huge demand and potential in these sectors as a result of consumer upgrading in China."
Liu said he has a careful approach when looking for a UK tech company to invest in.
"Firstly, we are looking at an innovative and leading technology, which is not easy to be copied once it has been transferred to the Chinese market. Secondly, for the service and products provided, there must be a big demand in the Chinese market. Lastly, the entrepreneur of the business needs to have a good understanding of the Chinese market and be willing to recognize the opportunities that the company presents in China."
Russ Shaw, founder of Tech London Advocates, a private-sector-led coalition of 6,000 experts that champions London's potential as a world-class technology hub, said: "The China-UK topic is more relevant now than ever before, given our current political climate and the impending consequences of Brexit. International collaboration and the shaping of key relationships with countries outside the EU is the way forward for the UK, and this year's event epitomizes those links that will define the future growth of the UK digital economy."
Last month, Cocoon Networks took London Tech Week's first-ever overseas mission to China. Shaw, as one of the delegates on the mission to China, was given a chance to experience the scale of investment funds, and infrastructure development projects, in China, which he said are unlike anything seen in the UK or Europe.
"It's clear to me that China is one of the dominant tech forces for a reason, and its rapid growth is set to continue," he said.

Source: ChinaDaily
Please
contact us
in case of Copyright Infringement of the photo sourced from the internet, we will remove it within 24 hours.