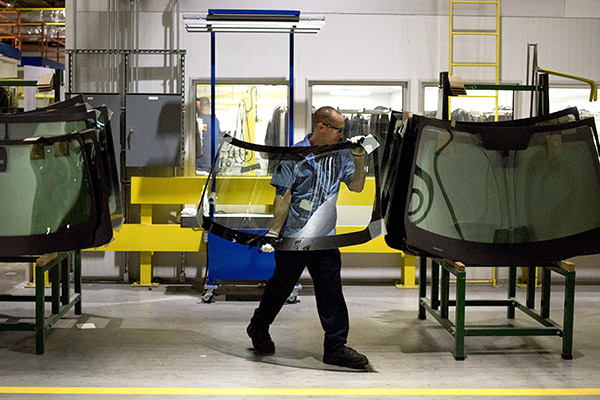 An employee carries a rear windshield at the Fuyao Glass America production facility in Moraine, Ohio, US. [Photo/Agencies]
The road for Chinese companies to invest in the United States could still be bumpy this year even though the two countries sought to ease their economic disputes and agreed not to engage in a trade war, experts said.
Chinese companies could face much lengthier and more complex procedures to have their merger and acquisition deals reviewed and approved by the US government and the increasing uncertainty could prompt them to look away from the US as an investment destination in the short term, according to lawyers who offer legal advice and services to Chinese companies.
"There's been great concern expressed by Chinese companies about whether or not it's worth the effort (investing in the US) … If it's not going to be seen favorably from the beginning then they'll look elsewhere to figure out another place to invest," said Wendy Wysong, a partner of London-based law firm Clifford Chance, who practices in Hong Kong.
Factors such as growing US regulatory scrutiny, uncertainties in China-US trade discussions and the controversy involving Chinese telecommunication equipment maker ZTE Corp have cast a shadow on the outlook of the Chinese investment in the US.
In the first quarter, the value of outbound deals reached by Chinese companies contracted by 15 percent year-on-year to $94 billion, according to law firm Freshfields Bruckhaus Deringer.
The decline in Chinese outbound investment can be largely attributed to less investment in the US, as the US government is tightening its grip on mergers and acquisitions by Chinese companies, especially in the technology sector, said Alan Wang, corporate partner in Freshfields' global transactions group.
Stanley Jia, chief representative of law firm Baker McKenzie's Beijing office, said that M&As and corporate activity by Chinese companies in general will likely remain at a wait-and-see stage given the uncertainties in the China-US trade discussions and any material impact it could have on Chinese investment in the US.
"If we see broadening and retaliatory measures spreading, that would no doubt add uncertainty to the outlook in the short term, and businesses do not like uncertainty," Jia said. "Therefore, political risk assessment and regulatory planning are increasingly becoming an important part of an overall deal strategy."
Chinese investment in the US already saw a sharp decline last year. Chinese firms completed $29 billion worth of investments in the US last year, down 35 percent from the record $46 billion completed in 2016, according to a joint report by the National Committee on US-China Relations and Rhodium Group.
While tighter domestic regulation on risky overseas investment was one reason behind the decline, short-term unfavorable conditions in the US have clearly hit the deal-making appetite of Chinese companies.
Prominent transactions abandoned by Chinese investors due to irresolvable concerns by the Committee on Foreign Investment in the United States included Ant Financial's acquisition of Moneygram, Zhongwang's takeover of aluminium producer Aleris and Canyon Bridge Capital Partners' acquisition of Lattice Semiconductor.
Wysong at Clifford Chance said that Chinese companies that are looking to invest in the US need to consider what their obligations are. Clifford Chance has been representing ZTE Corp from 2012 till now.
"Putting aside the ZTE case, I think that any company that is dependent on US origin goods needs to consider the implications of the US export control laws and US economic sanctions, and the enforcement tools that the United States will bring to bear if they become concerned about a particular company's conduct," Wysong said.
"They must be aware that there are certain interests that the United States has. For example, with the recent withdrawal from the JCPOA (Joint Comprehensive Plan of Action), there are going to be secondary sanctions on particular industry sectors in Iran and non-US companies need to be aware of those," she pointed out.
Timothy Wilkins, a partner in Freshfeilds' global transactions group, said that CFIUS, the US inter-agency panel that reviews foreign acquisitions, has entered a more aggressive era of enforcement.
"One proof is the average time spent on the investigation process of overseas investment. While in 2015, less than 30 percent of the overseas investment into the US will go through a 40-day investigation, the rate now is over 70 percent. The time for a Chinese company to complete the investigation might last for up to five months," he said.
Nonetheless, the long-term outlook of Chinese outbound investment remains optimistic as it will be driven by factors such as the Belt and Road Initiative and the global economy needs Chinese capital to be deployed, according to law firm Baker McKenzie.
"We believe outbound M&A will restart its growth trend in 2018 with a modest increase compared to 2017," said Jia at Baker McKenzie.
"China will be increasingly driven by service sectors and consumer spending. It is likely that healthcare, pharmaceuticals and consumer-related industries will become increasingly important M&A sectors," he said.

Source: ChinaDaily
Please
contact us
in case of Copyright Infringement of the photo sourced from the internet, we will remove it within 24 hours.