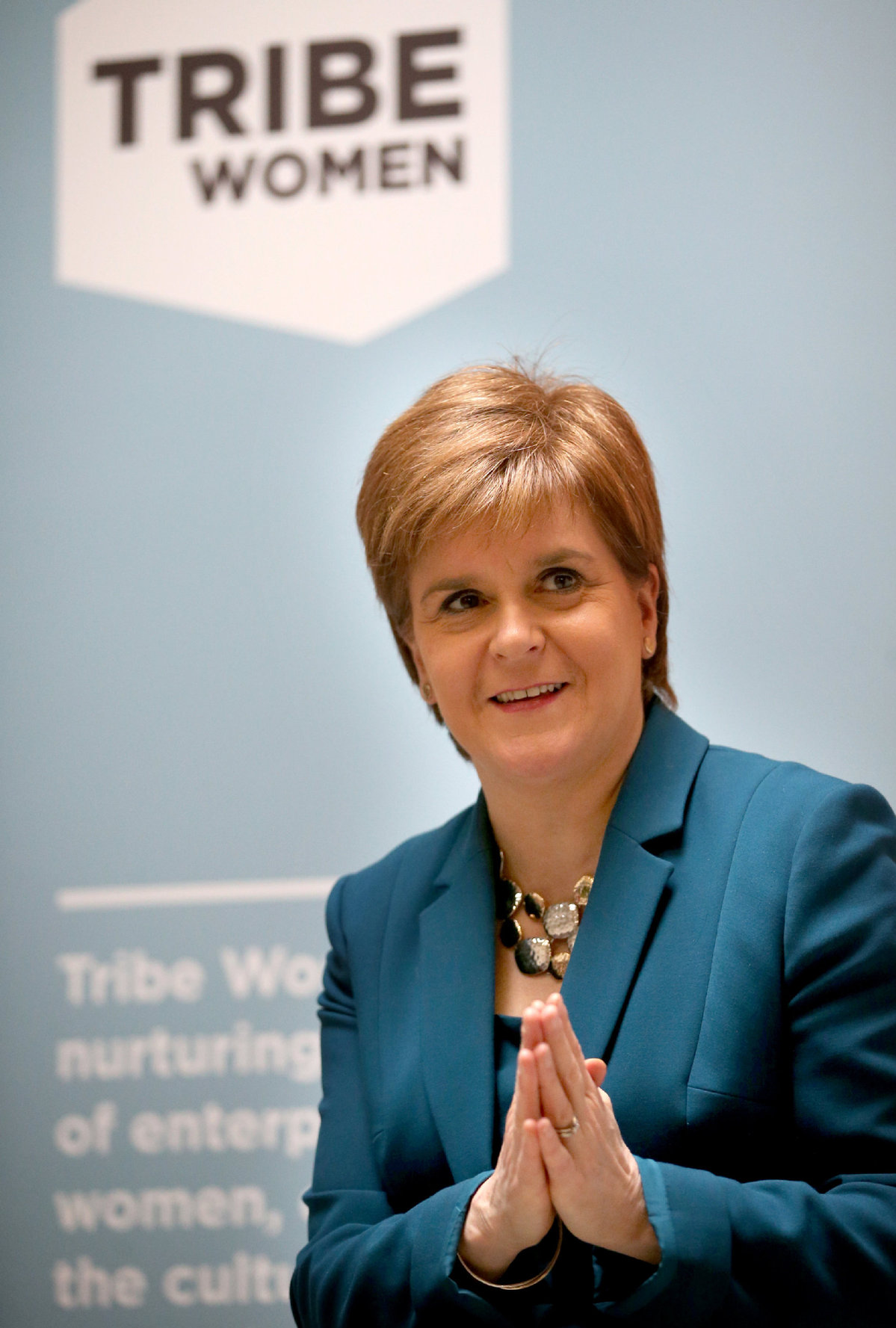 Scotland's First Minister Nicola Sturgeon visits Tribe Porty, in Portobello, Edinburgh,
where she met women from the Tribe Women Social Enterprise School
ahead of International Women's Day, March 7, 2018. [Photo/Agencies]
Scottish First Minister Nicola Sturgeon will visit China next month to promote the growing economic, cultural and educational links between Scotland and the world's second-largest economy.
She will visit Beijing, Shanghai and Hong Kong between April 9 and 13, conducting a series of high-level business and government meetings, as well as education showcases, cultural engagements and other events.
This will be the First Minister's first visit to China since 2015, and comes on the back of strengthening international links between the two countries.
Latest figures show that goods exports from Scotland to China are increasing at a faster rate than to any of Scotland's other top five export partners, with a rise of more than 40% last year.
Meanwhile, the first direct Scotland-China air route was announced last week, with Hainan Airlines set to offer a twice-weekly service between Edinburgh and Beijing from June this year.
In December last year, the First Minister met with Vice Premier Liu Yandong in Edinburgh during her visit to the UK
Announcing her visit, the First Minister said:
"I am delighted to be visiting China to promote the long-standing friendship between our two countries "Since my last visit three years ago, the economic and cultural links between Scotland and China have gone from strength to strength, underlined by the recent strong export figures and the new direct Edinburgh-Beijing flight route announced last week.
"As the world's second largest economy, there are huge opportunities for Scottish companies to work with China. I will be travelling with the message that Scotland is a fantastic place to invest, to do business, to study and to visit on holiday.
"During my visit I will meet with senior Chinese Government representatives and I look forward to exploring new ways that our two countries can work together for the mutual benefit of all our people. As with my previous meetings, we will continue to talk about the importance of equality of opportunity and respect for human rights."
Liz Cameron OBE, Director and Chief Executive of Scottish Chambers of Commerce, said:
"This visit is a great example of how business and government can mobilise our respective strengths to do what's best for the Scottish economy and forge new international business alliances. Our highest priority is to make sure that Scotland remains open for business to the rest of the world. That means being able to trade and invest easily with international markets, and Scotland remaining an attractive destination for inward investment.
"The Chamber Network's Business Mission to China will see Scottish companies meet directly with Chinese suppliers, investors and buyers, providing commercial business opportunities and partnership exchanges. With our dedicated Scottish Trade Office in Yantai, coupled with Scotland's entrepreneurial business diaspora and the unparalleled reach of the Scottish Chamber Network, I am confident we will deepen the business to business relationships between Scotland and China and grow our economy."
Karen Betts, Chief Executive at the Scotch Whisky Association, said:
"We're very pleased that the First Minster is going to China, where there are many exciting exporting opportunities for Scottish businesses, including, for Scotch Whisky. This visit is a chance to forge even closer ties with the world's largest spirits market, both now and into the future.
"As Scotland's largest food and drink export, accounting for £4.36bn in trade and supporting thousands of jobs in Scotland, China represents a huge opportunity for growth for Scotch Whisky. Exports to China increased by 47% last year along as more Chinese consumers start appreciating the heritage, craft and quality of Scotch."

Source: ChinaDaily
Please
contact us
in case of Copyright Infringement of the photo sourced from the internet, we will remove it within 24 hours.