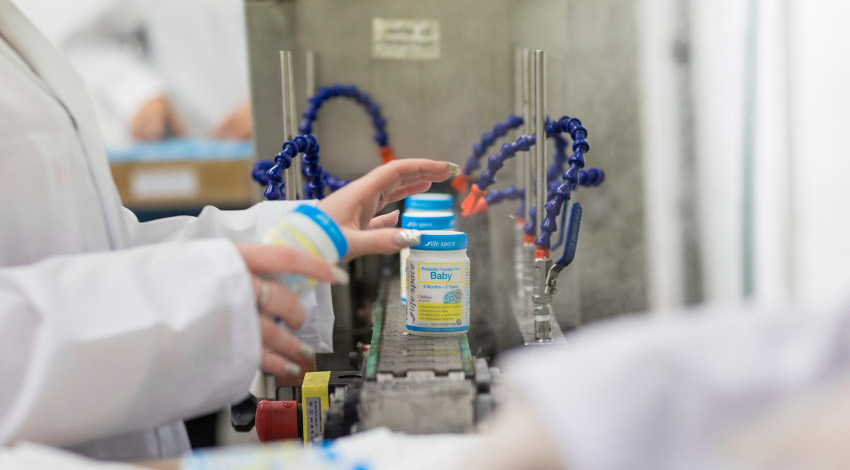 Probiotics manufacturer Life-Space Group has been acquired by China's BY-HEALTH, in a deal that values the Australian company at up to $690 million.
Life-Space announced today it had entered a binding agreement to sell 100 per cent of its shares to BY-HEALTH, just over three years after it entered the Chinese market with an e-commerce-based offering.
Life-Space is one of Australia's largest probiotics players, operating the Evolution Health and Ultramix businesses, as well as owning or distributing Healthy Essentials, Elmore Oil and Corams health, joint and muscular pain relief and infant and baby care products.
BY-HEALTH was founded in 1995 and has been listed on the Shenzhen Stock Exchange since 2010.
Its growth strategy has included acquiring the rights to operate the Natures Bounty and Met-Rx brands in China, with the Life-Space acquisition a natural progression of that plan.
Managing director Ben McHarg said Life-Space had grown exponentially over the past five years, and had realised it needed to review its ownership structure to continue its domestic and international expansion.
"Following a comprehensive global process, it became clear to us that BY-HEALTH was the most natural owner and the best home for our brands," Mr McHarg said.
"BY-HEALTH shares many of the same values that we feel were vital in building our own business and we look forward to a long and successful future together."
Mr McHarg said BY-HEALTH would keep Life-Space's staff and management in place and its headquarters in Melbourne under the arrangement.
"This outcome reflects a strong and continued commitment to the Australian manufacture of all Life-Space Group products through our TGA licensed facility – which has been so critically important to our success, especially in China where the safety and quality of Australian manufacturing are held in such high esteem," he said.
BY-HEALTH chief executive Lin Zhicheng said the acquisition was an important step for the company's continued large-scale development.
"Currently the probiotics market is one of the fastest growing market segments," Mr Lin said.
"Life-Space Group has received public praise for its online experience and brand, and meets the requirements to become a leader in the global probiotics market.
"The two companies will generate synergies at both a product and business level and explore new growth opportunities in the market."

Source: Australia China
Please
contact us
in case of Copyright Infringement of the photo sourced from the internet, we will remove it within 24 hours.