2017 In Review: China's Top 10 Outbound Deals Reflect Beijing Crackdown On "Unsound" Investment
Seven of China's ten biggest outbound M&A deals of 2017 were in the logistics, energy and mining sectors, reflecting Beijing's year-long crackdown on what is considers "unsound" overseas investments. This marks a sea change from 2016, when eight of the ten biggest cross-border M&A deals were in the technology, entertainment and tourism sectors.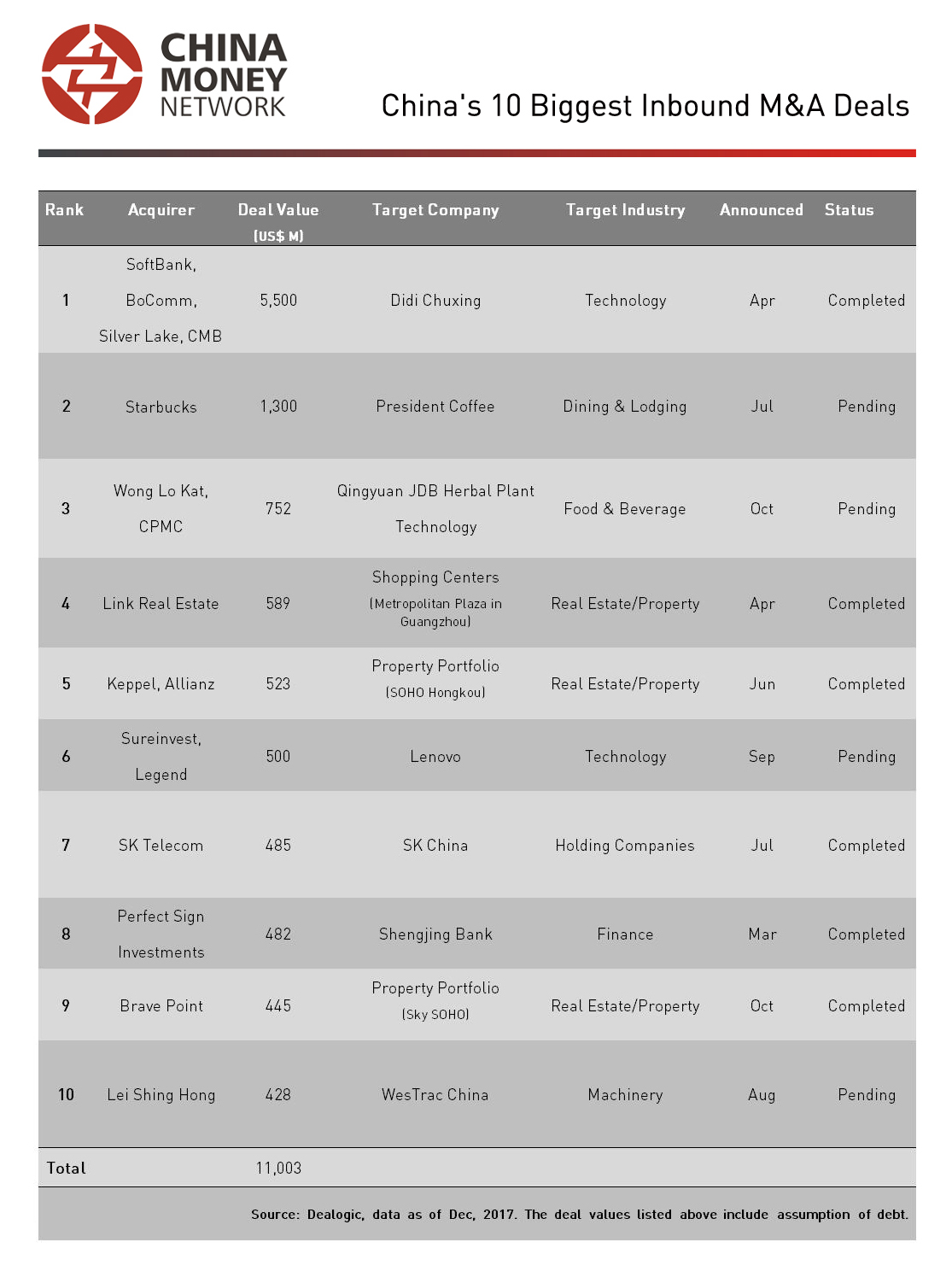 This year, except for one technology deal and two transactions in financial services, all other deals – in fact the six biggest of the top ten – were in more traditional sectors. The biggest deals included China Investment Corp's US$13.8 billion acquisition of European warehouse and logistics real estate operator Logicor Europe from Blackstone, the US$11.6 billion privatization of Singapore-headquartered logistics facilities operator GLP by a group of Chinese investors, as well as the US$8.4 billion purchase of container transport and logistics services provider Orient Overseas (International) Ltd. by China's COSCO Shipping and Shanghai International Port Group.
By contrast, the highlight of 2016's cross-border deal making included Tencent's US$8.6 billion purchase of mobile gaming operator Supercell, HNA Group's US$6.5 billion investments in Hilton Worldwide Holdings Inc. and US$6 billion purchase of IT product and services provider Ingram Micro, as well as Dalian Wanda Group's US$3.5 billion acquisition of Hollywood studio Legendary Entertainment.
In December 2016, Chinese regulators issued statements saying that they were "paying close attention" and advised "caution" for Chinese overseas investments in the real estate, hotels, cinemas, entertainment and sports clubs. In August 2017, a formal directive was issued by the State Council, officially listing the above sectors as "restricted" areas for outbound investments. As a result, Chinese outbound investments in real estate dropped by over 82% during the first six month of 2017, while outbound investments in culture, sports and entertainment plunged 82.5% year-on-year during the same period.
Despite policy tightening, overall Chinese outbound investments remained robust. A total of 591 Chinese deals have been announced so far this year, worth more than US$139.8 billion, down 24% and 36% year-on-year respectively, according to data from Dealogic. However, total deal value of outbound M&A deals by Chinese companies in 2017 still registered a 43% jump when compared to 2015 levels.

Source: China Money Network
Please
contact us
in case of Copyright Infringement of the photo sourced from the internet, we will remove it within 24 hours.