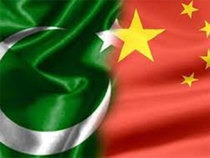 China is planning to construct a $4 billion petrochemical complex, that envisions a refinery with 10 million tonnes per year capacity near Pakistan's southern port city of Karachi, industry officials said.
This was disclosed by Federation of Pakistan Chambers of Commerce and Industry (FPCCI) President Zubair M Tufail after a meeting with the visiting Chinese delegation led by Li-Jial, Director Tianchen Engineering Corporation (TCC), at the Federation House here yesterday.
Li-Jial and Tufail agreed in principle to establish and exchange investment missions to further enhance trade relations between the two countries, Dawn reported.
A Chinese proposal to set up a refinery along with a downstream petrochemical complex near Karachi is advancing steadily as requests for 500-1,000 acres (land) has been submitted to the provincial governments of Sindh and Balochistan, the report said.
The complex envisions a number of jetties, a refinery with 10 million tonnes per year capacity, as well as downstream processing facilities for naphtha and its component chemicals.
"Currently we are importing $2 billion worth of these chemicals from the Middle East," Tufail said, adding that the complex could help reduce Pakistan's external deficit.
Building of the complex will take four to five years, he said.
Li-Jial said that TCC would like to invest in Pakistan to enhance business opportunities.
China, the "all-weather" friend of Pakistan, had been extending cooperation in different sectors of the country's economy and lately there had been a "sudden jump" in these relations for the mutual benefit of both countries, she added.
China is currently building the China-Pakistan Economic Corridor a part of Chinese President Xi Jinping's ambitious multi-billion Belt and Road initiative.
The $50 billion project is a mega network of roads, rail links, power plants and other infrastructure connecting western China's Xinjiang province to Pakistan's southern port of Gwadar.
The FPCCI president said that Pakistan could benefit from the TCC's vast experience in oil refinery, energy, chemical complexes and other projects and explore investment opportunities mutually beneficial to both the countries.
Tufail said both the provincial governments are interested in this project but would depend how they make a land deal with the Chinese investors.

Source: The Economic Times
Please
contact us
in case of Copyright Infringement of the photo sourced from the internet, we will remove it within 24 hours.