Gary Lamphier: China's Foreign Investments Soar, Especially in U.S.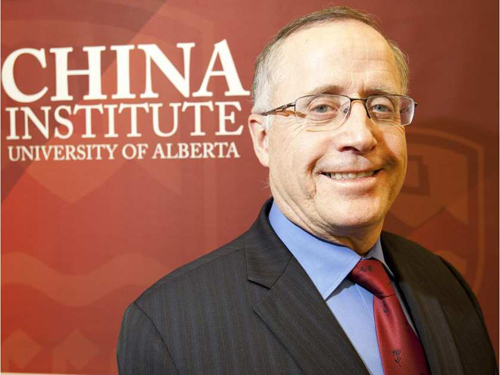 "Chinese investment has moved away from commodities into areas like high-tech,
manufacturing and a broad range of sectors," says Gordon Houlden,
director of the University of Alberta's China Institute.
China's appetite for Canadian energy assets has cooled markedly since 2013, when state-owned energy giant CNOOC Ltd., that country's top offshore oil and gas producer completed its controversial $15.1-billion takeover of Calgary-based Nexen Inc.
The key factors behind The Big Chill? Let's count 'em up: Ottawa's rejection of further big acquisitions by Chinese state-owned enterprises, the painful crash in global oil prices, repeated operating disasters at Nexen's Long Lake oilsands project and Canada's chronic inability to get any new oil pipelines built to the West Coast.

The Trudeau government may take the first step toward addressing the last of these impediments in December, when it's widely expected to approve Kinder Morgan's proposed $6.8-billion Trans Mountain Pipeline expansion project to Burnaby, just east of Vancouver.

Even if it's completed as planned by 2019, however, the 890,000-barrel-per-day pipeline is unlikely to trigger another big wave of Chinese investment in Canada's oil industry. That's because China's foreign investment focus has moved well beyond crude oil and other commodities.

Although Chinese enterprises are spending more money than ever on foreign acquisitions, most of that money is targeted at deals in Hong Kong, the U.S., Japan, Southeast Asia and Australia — not Canada.

It's also focused on sectors in which this country is not a key global player, such as technology, manufacturing, hotels, consumer goods and financial services. Private companies that are not controlled by the state are also playing a much bigger role these days.

Those trends are reflected in the latest figures from Beijing's Ministry of Commerce, which show that China's outbound direct investment soared more than 53 per cent in the first 10 months of the year to nearly $146 billion US. That's about $48 billion more than foreign firms invested in China over the same period.

Investments in the U.S. skyrocketed nearly 174 per cent, tops among the 162 countries and regions in which Chinese enterprises invested. On a year-to-date basis, China-based firms forked out some $18 billion south of the border, says data compiled by Rhodium Group, a New York-based consulting firm.

That's four times the $4.47 billion Chinese companies invested in Canada through October, says Gordon Houlden, director of the University of Alberta's China Institute.

China's investments in Canada rose about 35 per cent, year-over-year, and surprisingly, China's cumulative investments in Canada still exceed its holdings in the U.S., at $66.6 billion versus $64 billion. But that's likely to change soon.

"Chinese investment has moved away from commodities into areas like high-tech, manufacturing and a broad range of sectors. That's why the U.S., with the size and diversity of its economy, will be attracting more Chinese investment," says Houlden.

"A few deals get turned down, but in looking at the numbers the approvals in the U.S. are still very large and the vast majority of their applications are approved. So I think we'll see a continuing uptick. They've also moved their focus from principally Third World countries in Asia, Africa and Latin America to increasingly target the advanced industrial economies."

The big increase in foreign acquisitions by private, non-state-owned Chinese enterprises reflects a desire by domestic firms to broaden their marketing channels and acquire advanced technology, says HSBC Global Research, in a report issued Friday.

"The private sector has overcome difficulties in getting financing for overseas projects thanks to easing funding conditions amid an ample supply of liquidity," it adds. Nearly 70 per cent of China's foreign merger and acquisition activity was domestically financed in the first nine months of 2016.

"The shift in the preferred industries from upstream mining to downstream entertainment, real estate, services and technology also reflects efforts to seek a higher return on capital. Developed markets such as the U.S. and Europe are the biggest beneficiaries," HSBC notes, with the U.S. ranking No. 1 for foreign takeovers in the first three quarters of the year.

China is also pushing its brands out into the global marketplace. Some of the country's technology brands now generate more revenue abroad than in their home market.

"For example, in early 2014, Lenovo (a maker of personal computers) and ZTE (a Chinese telecom equipment company) were generating over half of their revenue from outside China. Lenovo made quite a few overseas purchases in the past decade, from the PC business of IBM to the German computer firm Medion AG," HSBC notes.

"Similarly, ZTE also expanded rapidly overseas, such as the purchase of Cell C, the third-largest wireless operator in South Africa. Rather than developing their own brands by investing heavily in marketing, these companies see acquiring an established one as being a more efficient way to expand."

Finance, real estate, entertainment and tourism accounted for 25 per cent of all Chinese cross-border M&A deals last year and thus far in 2016, HSBC adds, with Tencent's $8.6-billion bid for an 84-per-cent stake in Finland Supercell and Anbang's $6.5-billion investment in Blackstone leading the parade.

Chinese firms are even throwing their weight around in the sports and cultural industries. Witness Suning's purchase of a 69-per-cent holding in Inter Milan, the Italian football club, and the acquisition of City Football Club — the Abu Dhabi-based parent of Manchester City, the top English Premier League team — by Shanghai China Media Capital Holdings and its partners.

Given the massive wall of money that Chinese companies are investing abroad, it's little wonder that the Trudeau government is hoping to snatch a bigger piece of it, especially with protectionist pressures on the rise south of the border.

Edmonton Journal
Please
contact us
in case of Copyright Infringement of the photo sourced from the internet, we will remove it within 24 hours.