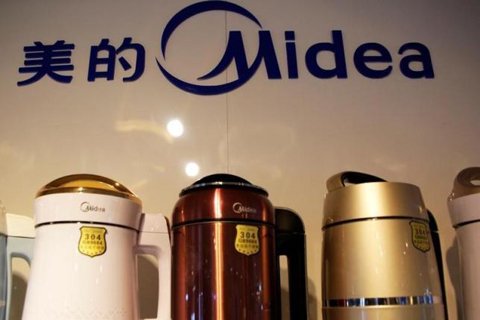 Products of Midea are seen at a shop in Beijing, China, May 18, 2016.
China's Midea Group Co Ltd wants a stake of no more than 49 percent in German industrial robot maker Kuka and will resell any shares it acquires beyond that threshold, German coalition sources said on Tuesday.
The government sources, speaking on condition of anonymity, said this would allow Kuka to continue to retain a strong German anchor investor.
Shares in Kuka fell 3.4 percent to 102.45 euros on Tuesday, one of the leading decliners in the German mid-cap index, which was down 1.3 percent. Midea plans to offer 115 euros ($128.97) per Kuka share.
Kuka has become the latest and biggest German industrial technology group to be targeted by a Chinese buyer, fanning a furious debate over Chinese takeovers in Europe.
Midea is preparing to publish its offer on Thursday, but will not for now include a pledge to have an upper limit in the bid documents, two people familiar with the plans told on Tuesday.
Midea has said it wants a stake of at least 30 percent in Kuka. Achieving that will oblige it, under German takeover law, to make a takeover offer for the rest of the company.
It said in a statement: "Midea has clearly stated that its intentions are to have a meaningful stake in Kuka above 30 percent. The ultimate level of our shareholding will depend on the level of Kuka shareholders that tender into the offer."
Kuka, which is 25 percent owned by German engineering group Voith and 10 percent by billionaire businessman Friedhelm Loh, declined to comment.
The $5-billion bid has prompted some politicians to call for tougher restrictions to protect technology deemed critical for its future economic success from falling into Chinese hands.
Economy Minister Sigmar Gabriel said earlier this month that an effort was underway to find an alternative European bidder for Kuka, but so far no-one else has come forward.
Chancellor Angela Merkel said during a visit to Beijing on Monday there was a general openness towards investments from China, but it was expected that the country open up and offer the same investment conditions.

Reuters
Please
contact us
in case of Copyright Infringement of the photo sourced from the internet, we will remove it within 24 hours.