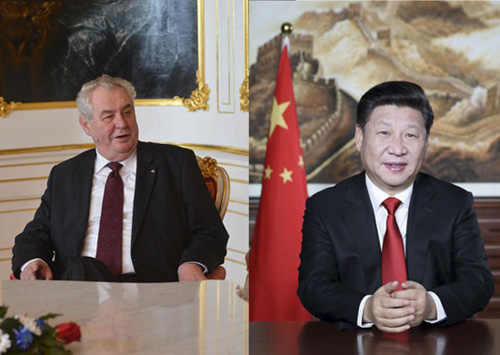 Czech President Milos Zeman and
President Xi jinping
President Xi Jinping's visit to the Czech Republic this month will be "a dream moment" to deepen bilatural relations.
The Chinese leader will arrive in Prague on March 28 for a three-day visit that promises to lift bilateral relations to a strategic partnership and deepen co-operation in trade, investment, aviation, finance, culture and sport.
Ahead of the trip, the Czech government has offered a long list of projects to match China's Belt and Road Initiative, and better connect the landlocked country with Asia, the rest of Europe and Africa.
"President Xi's visit is a dream moment for me," says Jaroslav Tvrdik, a former defence minister and now a special adviser to the nation's leadership, who is involved in making arrangements for Xi's visit.
"We've made tremendous efforts in preparing for the visit, the first one by a Chinese president since diplomatic relations were established 67 years ago."
The leaders of both sides will hold talks, make various declarations and oversee the signing of more than 20 co-operation documents during the visit. The visit will also coincide with economic forums and cultural events, while budding football and ice hockey players from both nations will take part in training sessions and exhibition matches.
Tvrdik, who is also president of the China-Czech Friendship Association, says both sides are working toward boosting bilateral relations to a strategic level while identifying co-operation priorities.
The countries are working on delivering an action plan on the Belt and Road Initiative after signing a memorandum of understanding last year.
The Czech Republic enjoys the geographic advantage of being a gateway to Europe, Tvrdik says, adding that by cooperating with China, the European country aims to turn the capital, Prague, into a financial, aviation and cargo centre.
He also says Bohuslav Sobotka, the Czech prime minister, is fond of traditional Chinese medicine and that the country is competitive in medical services. "We hope we can deepen relations in this regard, and probably we will open a TCM centre in the Czech Republic during this visit," Tvrdik adds.
Ma Keqing, the Chinese ambassador to Prague, says Xi's visit is of trailblazing significance because it is his first trip to Central and Eastern Europe since he was elected president in 2013. It is also the first visit to Europe this year, although he visited Western Europe in 2014 and 2015.
"This visit has attracted a lot of attention from Czechs and the rest of Europe," Ma says. "It will become a landmark visit to boost relations with Central and Eastern European countries."
She says the visit aims to boost pragmatic co-operation between the two countries by jointly seeking synergies in large projects by implementing the Belt and Road Initiative.
"The Czech Republic has responded actively to President Xi's Belt and Road Initiative to boost connectivity and has treated it a chance to take on China's train of development and further stimulate its economy."
The nation has also proposed making Prague China's financial centre in Central and Eastern Europe, which Ma says has been welcomed by the Chinese side.
The ambassador says China is willing to deepen financial co-operation, encourage the use of each other's currencies in trade and investment, and engage in talks on the feasibility of setting up a renminbi settlement mechanism in Prague.
"Such a settlement mechanism is necessary as trade and investment activities between China and countries in Central and Eastern Europe are rapidly growing," Ma says.
In recent years, Chinese companies have shown greater interest in the Czech Republic. Stock investments have reached $1.6 billion, while the Czech Republic's outbound investment in China stood at $1.8 billion at the end of last year.
Chinese TV maker Changhong has set up a factory with an output of 1 million units.
Xi'an Shaangu Power, a Chinese engineering company based in Shaanxi province, also paid 318 million yuan ($49.1 million; 43.6 million euros) last year for a 75 per cent stake in Brno Ekol, a leading Czech turbine manufacturer. The deal is the biggest investment by China into Czech's manufacturing industry, accounting for about 17 per cent of China's total investment in the country.
China Energy Co Ltd, based in Shanghai, is a latecomer but has developed rapidly in the Czech Republic by investing in energy, the financial sector, aviation, the football industry and the media.
"We have already found the unique geographic advantages of the Czech Republic, and we're sure that businesses could explore more win-win opportunities in turning the Belt and Road Initiative into action," says Ye Jianming, president of China Energy Co.
Beyond business opportunities, Zuzana Li, a translator devoted to making Chinese literature available in the Czech language, expects the visit to also deepen people-to-people and cultural exchanges.
"I hope this historic visit will benefit both our countries and our peoples, which should go beyond just business," Li says.

AsiaOne
Please
contact us
in case of Copyright Infringement of the photo sourced from the internet, we will remove it within 24 hours.