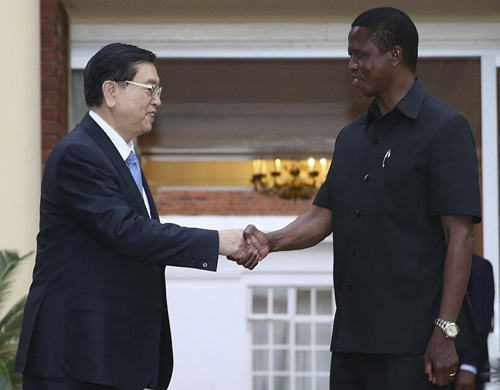 LUSAKA, March 22, 2016 (Xinhua) -- Zhang Dejiang (L), chairman of the Standing Committee
of
China's National People's Congress (NPC), shakes hands with Zambian
President Edgar Lungu in Lusaka, capital of Zambia, March 19, 2016.
Zhang
paid an official goodwill visit to Zambia on March 18-22. (Xinhua/Ma Zhancheng)
Zhang Dejiang, chairman of the Standing Committee of China's National People's Congress, paid an official goodwill visit to Zambia on March 18-22.
Zhang's 10-day Africa tour, which will also take him to Rwanda and Kenya, is aimed at pushing forward implementation of the outcomes of the Forum on China-Africa Cooperation (FOCAC) summit held in South Africa's Johannesburg in December.
The major plans to boost China-Africa win-win cooperation announced by Chinese President Xi Jinping at the summit demonstrated China's commitment to supporting Africa's independent and sustainable development, Zhang said during a meeting with Zambian President Edgar Lungu on Saturday afternoon.
The top legislator called on the two countries to enhance collaboration on implementing the consensus reached during the FOCAC summit and constantly deepen bilateral relations.
China will pay more attention to improving quality of bilateral pragmatic cooperation, Zhang said, proposing that the two sides should give priority to cooperation in areas such as industrial capacity, agriculture, infrastructure construction, finance and human resources development.
Zhang said China appreciates Zambia's role in safeguarding African unity and is willing to strengthen coordination with Zambia on the reform of the United Nations Security Council, climate change, Africa's peace and security as well as other global and regional affairs.
Lungu expressed willingness to expand pragmatic cooperation with China on industrial capacity, mining and agriculture among others, adding that Zambia welcomes more Chinese investment in the country.
When holding talks with Speaker of Zambian National Assembly Patrick Matibini on Saturday, Zhang called on the legislative bodies of both countries to upgrade cooperation and fully play their roles in promoting China-Zambia relations.
On Monday, Zhang visited Zambia's former President Kenneth Kaunda and spoke highly of the role the first president of Zambia has played in promoting the friendly relations between the two countries.
Zambia established diplomatic ties with China in October 1964, just after the Africa country gained independence from colonial rule.
Accompanied by Zambian Vice President Inonge Wina, Zhang visited a China-Zambia economic cooperation zone in Lusaka and a Confucius Institute in the University of Zambia on Monday.
During his stay in the Zambian capital, the Chinese top legislator also attended the 134th Assembly of the Inter-Parliamentary Union.

Xinhua
Please
contact us
in case of Copyright Infringement of the photo sourced from the internet, we will remove it within 24 hours.