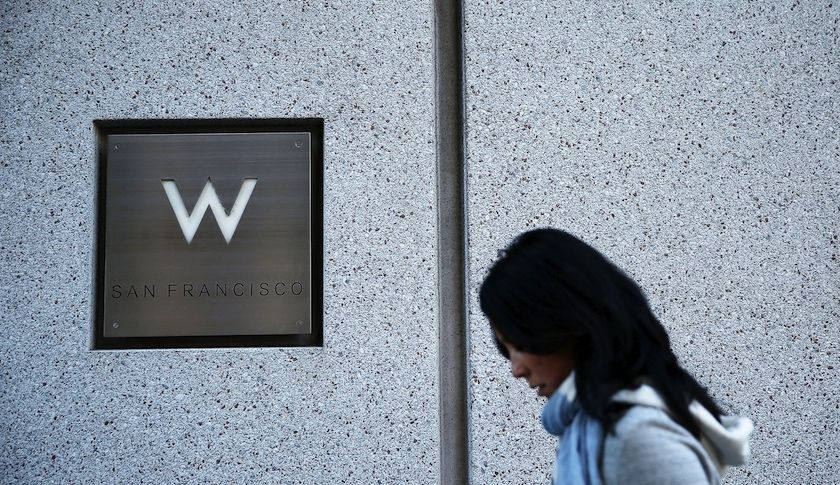 The head of Anbang Insurance, the last-second bidder to emerge for Starwood, is known in China for his political connections and international deals.
That is, Wu Xiaohui is like a lot of Chinese dealmakers these days.
Close government connections are a given for Chinese dealmakers. In China, almost everyone running a bank or financial services firm has to be close to the government because the idea of "financial security" is a key part of China's national security, says Willy Lam, a professor at Chinese University of Hong Kong and close watcher of elite Chinese politics.
"The fact that Wu made a go of Anbang in a relatively short time-frame testifies to his good political connections," Lam says. Those include his wife (who may or may not be estranged, according to reports in a respected Chinese finance magazine,) the granddaughter of former Chinese leader Deng Xiaoping. Deng's family is reportedly close to the family of current president Xi Jinping. The son of Chen Yi, a top Communist commander in the war against the Nationalists back in the 1940s, also said he has worked as a consultant for Anbang.
The country's own state-run press isn't shy about reporting Wu's government connections. China Daily wrote last year, after Anbang had closed its deal for the Waldorf Astoria in Manhattan, that Chaiman Wu was known for his "deep connection with the children of China's revolutionary veterans and leaders."
Government-friendly companies like Anbang have been expected to go abroad and buy Western assets for technology and to diversify Chinese interests. In speeches, Chairman Wu has said Anbang's startegy is to grow via global acqusitions.
Anbang's largest shareholders are the state-owned companies that contributed the initial capital in 2004, including the Shanghai Automotive Industry Group Corp and oil giant Sinopec Group. In Chinese, Anbang means "to stabilize the country."
The latest Anbang deal is grabbing attention not only because Anbang is playing spoiler in the expected hook-up between Marriott  MAR -0.73%  and Starwood  HOT 0.29% , or that it announced a $6.5 billion deal for a group of Blackstone-owned hotels just one day before, or because last year it closed deals for Belgian and South Korean insurers … no, it's grabbing attention because it is the latest in a gusher of Chinese companies going abroad.
So far this year $102 billion worth of outbound deals have been announced, according to Dealogic, already approaching last year's total of $106 billion already and doubling 2010's total. That includes the largest Chinese outbound deal ever, a state-owned company's $43 billion bid for Swiss pesticide and seed company Syngenta.
In the U.S. China's incursions are even more dramatic. Including Anbang's recent announcement for Starwood, the total Chinese investment into the U.S. in 2016 is $39 billion, more than double last year's total and three times the M&A of 2013 and 2014.
Because of Anbang's known ties to government officials, the Starwood bid is expected to be reviewed by Committee on Foreign Investment in the United States, a little-known government board that has gained prominence because of the growing Chinese interest in U.S. companies.
The committee normally sticks to deals of national security, including Chinese acquirers recent interest in U.S. chipmakers. Chinese investors affiliated with Tsinghua University faced the potential for a difficult review of their ultimately unsuccessful deal for Micron last year. In 2015, Anbang won approval from CFIUS for its buyout of the Waldorf Astoria.
Despite the obstacles, the gusher of Chinese spending looks like it will go far beyond Anbang's latest deal.

Fortune
Please
contact us
in case of Copyright Infringement of the photo sourced from the internet, we will remove it within 24 hours.