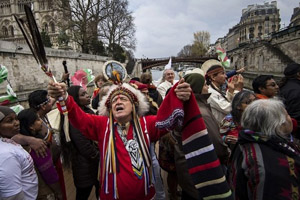 Indigenous representatives from around the world engage in a
joint prayer session on board of a river
boat on the Seine river,
a
s part of a campaign to draw attention to the plight of indigenous
tribes facing climate change on the sidelines of the COP21 Climate
Sultan Al Jaber, the UAE Minister of State, is expected to travel to Beijing next week to sign agreements to increase bilateral ties with China.
One of the priority sectors for collaboration will be energy – particularly renewables – as the Asian superpower looks to get more involved in the solar markets of the UAE, Morocco and Jordan, Masdar chief executive Ahmed Belhoul said.
"We want to get into the local [Chinese] market, but more so they want to talk to us to get into the region," he said.
Mr Belhoul said that it made sense to look at China. According to the United Nations Environment Programme, China received the largest amount of renewable energy investments last year, totalling a record US$83.3 billion. This was a 39 per cent increase on the previous year.
And for Chinese investors, it makes sense to partner with a local company to gain a larger foothold in the region.
Mr Belhoul said that Masdar would be outlining plans with Chinese counterparts for investment opportunities. "Masdar is not specifically signing a deal, but we are starting discussions," he said.
After Mr Belhoul's speech at the COP21 Re-energise event in Paris, representatives from Chinese firms approached him to discuss further collaborations. "For us, to work with a partner, we need someone who has delivered at least 100 to 200 megawatts. We want to go big," he said. This represents something of a shift in Masdar's investment strategy, but it isn't just pursuing opportunities in China.
Mr Belhoul said that historically, Masdar had looked to invest in mature markets of the UK and Spain, but now it was going after projects in other areas, particularly in the Mena region. Masdar is interested in Morocco, but has so far been unsuccessful in pursuing large-scale solar projects.
"Now we're going back to our own backyard and we're pursuing multiple business developments," he said, adding that the company would invest more over the next year than it had in previous years. "For us, the world is our oyster."
This view falls in line with the push to increase renewable energy to make up 36 per cent of the world's energy mix by 2030 to limit climate change to only a 2 degrees Celsius rise.
However, to do this, global annual investment into renewables will need to nearly double from current levels to reach US$500 billion for the next five years, according to the Abu Dhabi-based International Renewable Energy Agency (Irena).
In the organisation's report, Re-Energising the Future, a further scale-up of renewable energy investment totalling an annual average of $900bn will be needed from 2021-30.
If this goal is met, it also means that employment levels could surpass 24 million jobs, up from the sector's current employment figures of 7.7 million people around the world.
"[Renewable energy] is the fastest-moving sector in terms of energy investment," said Adnan Amin, director general of Irena. "We're seeing a world of energy that's changing in ways that no one had expected."

The National
Please
contact us
in case of Copyright Infringement of the photo sourced from the internet, we will remove it within 24 hours.