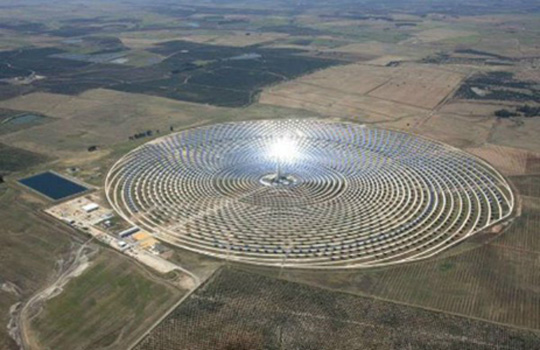 Morocco
is building "a complex of four linked solar mega-plants that, alongside hydro andwind, will help provide nearly half of Morocco's electricity from renewables by 2020," reports The Guardian. When the entire project is finished, it will be the world's largest concentrated solar power plant in the world. The first phase, Noor 1, will go live next month.
The project is part of Morocco's efforts to become, as The Guardian says, a "global solar superpower." The project is a massive undertaking. The complex in Ouarzazate will take up the same amount of space as Morocco's capital, Rabat, and will generate 580 megawatts of electricity. The project, according to Science Alert, will employ mirrors to "reflect sunlight onto a small area, allowing the sun's energy to heat up a solution that can later on be mixed with water—even hours after sunset—to create steam that turns energy-generating turbines."
Noor 1 will generate 160 megawatts of electricity and will be able to store solar energy for three hours after the sun has set, says Science Alert. The size of the project and the mirror technology required an investment of $9 billion so far. The Guardian said that much of the money came from "international institutions such as the European Investment Bank and World Bank and backed by Moroccan government guarantees. Undisclosed energy subsidies from Morocco's unelected ruler, King Mohammed VI, have prevented the cost from being transferred to energy consumers."
But for Morocco, it made economic sense. "We are not an oil producer. We import 94 percent of our energy as fossil fuels from abroad and that has big consequences for our state budget," Morocco Environment Minister Hakima el-Haite told The Guardian. "We also used to subsidize fossil fuels which have a heavy cost, so when we heard about the potential of solar energy, we thought; why not?"
And El-Haite said Morocco wants to eventually move to complete self-sufficiency, including water desalination plants, and start exporting its energy to Europe, the Middle East and other parts of North Africa.
The solar potential in the world's deserts is vast. Thirty years ago, German particle physicist Gerhard Knies calculated that, according to The Guardian, "in just six hours, the world's deserts receive more energy from the sun than humans consume in a year." The issue has just been figuring out how to transport that energy to population centers in a cost-effective way.
The cost of solar is plummeting. And as researchers develop cost-effective battery storage for solar and wind, renewable energy will continue to take off. Meanwhile coal companies keepfiling for bankruptcy in droves: in the last five years, a coal company has gone bankrupt on average every month.

EcoWatch
Please
contact us
in case of Copyright Infringement of the photo sourced from the internet, we will remove it within 24 hours.