President Xi Jinping has met with his
Zambian
counterpart Edgar Lungu in Beijing. The two leaders said they would deepen their countries' long-standing friendship and expand cooperation.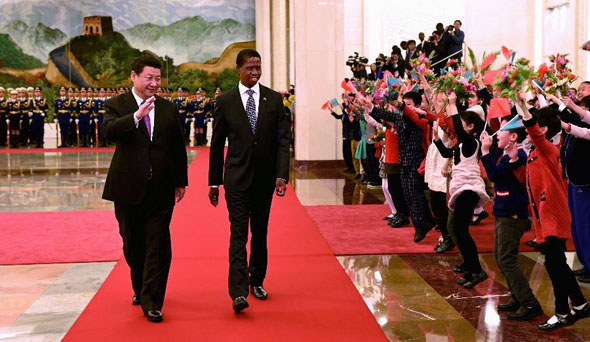 Chinese President Xi Jinping (L) and Zambian President Edgar Lungu (R)
attend a welcome ceremony in Beijing, capital of China, March 30, 2015.
The Zambian president says Africa stands for an open economic policy and is promoting regional integration. And he hopes China will join that process.
President Xi Jinping has called for the two countries to deepen cooperation in areas including infrastructure construction, electricity, mining, agriculture and manufacturing.
"President Lungu is an old friend of China. I greatly appreciate the president's efforts and strong emphasis on the development of bilateral ties. Last year, we celebrated the 50th anniversary of Zambia's independence and 50th anniversary of the establishment of diplomatic relations between China and Zambia. The two countries will continue to support each other on issues involving core interests and major concerns," Xi said.
Xi Jinping said China will encourage and help more companies to invest in Zambia and hopes that Zambia will provide more favorable conditions for them.
China will also collaborate with Zambia and Tanzania in the operation of the railway connecting the two African countries, to promote development and prosperity in the region.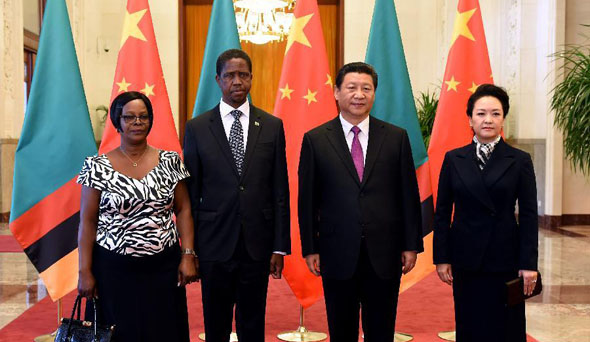 Chinese President Xi Jinping (2nd R) poses for photos with Zambian President Edgar Lungu (2nd L)
at a welcome ceremony in Beijing, capital of China, March 30, 2015.

Lungu thanked China for its sincere and valuable assistance for Zambia's independence and social and economic development.
"Indeed, there is so much hospitality among the Chinese people. Your warmth is fully appreciated by Zambians," Lungu said.
After the talks, the two presidents witnessed the signing of four cooperation agreements covering economic technology, infrastructure construction and communication.
"Zambian President Edgar Lungu is here in China for a state visit at the invitation of President Xi and the annual conference of the Boao Forum for Asia. China is the first country President Lungu visited outside Africa since he took office, so this visit has far-reaching significance," said Lin Songtian, director-general of Department of African Affairs, Foreign Ministry.
The Zambian president says his country is seeking more business opportunities from China. Zambia needs to trade its copper, needs investment to create jobs, and needs technological expertise to develop its infrastructure. As a trading partner and friend, China is willing to join hands with the African country to strive for win-win cooperation.
Related News in Chinese: 习近平在北京会见赞比亚总统伦古

CCTV.COM
Please
contact us
in case of Copyright Infringement of the photo sourced from the internet, we will remove it within 24 hours.