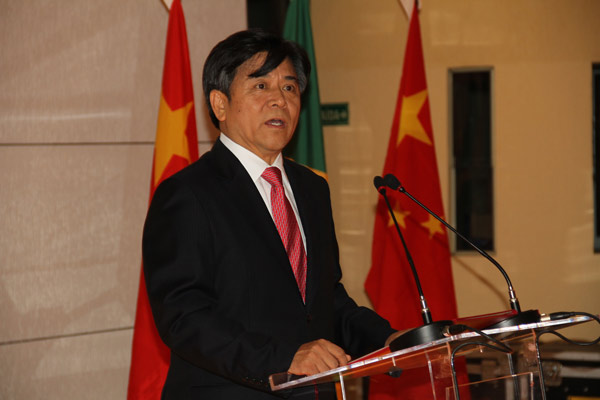 Chinese Ambassador Li Jinzhang praised the rapid development of China-Brazil relations at the celebration ceremony of the 65th Anniversary of PRC and 40th Anniversary of China-Brazil relations held in Brasilia on Oct 7.
The focus of the next phase of China-
Brazil
relations is to realize the series of bilateral agreements signed during Chinese President Xi Jinping's state visit to Brazil in July, agreements that will ramp up practical cooperation between the two countries to a new level, said Chinese Ambassador to Brazil Li Jinzhang on Oct 7 in Brasilia.

Li made the comments at a celebration ceremony for the 65th anniversary of the founding of People's Republic of China and 40th anniversary of diplomatic relations between China and Brazil.

"These agreements will lay a stronger foundation for China-Brazil relations' development over the next 40 years," Li said.

Li's words were echoed by Brazilian Deputy Foreign Minister Jose Alfredo Grasa Lima, who praised China's rapid development in recent years and the mutually beneficial cooperation between the two nations.

"Chinese President Xi Jinping's visit this July was a milestone in the development of Sino-Brazilian relations," Lima said. "The two countries face similar challenges and opportunities. Brazil is fully confident in the future of the relationship and is willing to cooperate with China hand-in-hand."

After 65 years of development, China is now the second largest economy in the world with an economic aggregate surpassing $9 trillion. In the first half of 2014, according to China's Ministry of Commerce, the economy grew at 7.4 percent.

"We will continue to stick to a policy of deepening comprehensive reform and enlarging opening up and promoting economic restructuring, in order to advance healthy and sustainable economic development and social progress," said Li.

The year 2014 also marks the 40th anniversary of China-Brazil diplomatic relations, with cooperation between the two countries having developed in various fields, ranging from the economy and politics to culture and technology.

"We are very confident in the future of China-Brazil relations," Li said. "As President Xi Jinping stressed, Sino-Brazilian relations will continue to develop following the principles of mutual respect, mutual benefit, mutual exchange and mutual learning."

Li said he believes that the relationship between China and Brazil will not be influenced by political conditions because it is based on the equal and mutual beneficial cooperation, which can yield practical benefits for the people of both countries.

"The future is rather positive," he said.

To display a comprehensive image of China-Brazil relations, the Chinese embassy to Brazil also presented a photo exhibition during the ceremony of 47 photos selected from Xinhua News Agency and local media.

"The exhibition is related to the political and economic relations of China and Brazil. It also shows the cultural exchanges, such as sports and artists. I am a great fan of Chinese history and the current China is a great country with a great culture," said Matheus Felix, a graduating history major at the University of Brasilia.

"I hope the China and Brazil relationship continues to growth in the future, since the Brazilian market is opening more and more to Chinese products and Brazil gets better product with better prices from China. China has opened a very competitive market compared to other markets, such as the European and North American ones," said Felix.