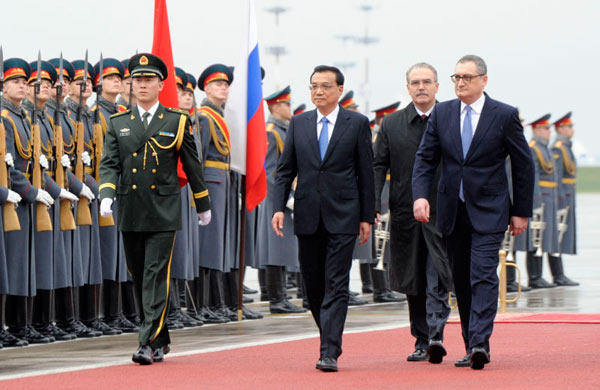 Premier Li Keqiang attends a welcoming ceremony as he arrives in Moscow on Sunday for a three-day visit. zhang duo/Xinhua
Raft of deals expected to be inked in Moscow

China and Russia are likely to sign up to 50 agreements on energy, finance, aerospace, railways and other fields, as Premier Li Keqiang arrived in Moscow on Sunday to seek long-term, stable and sustainable cooperation.

Agreements on energy, a local currency swap, satellite navigation, long-range wide-body aircraft development and high-speed rail are expected to highlight the deals and improve trade and investment between the neighbors, Xinhua News Agency reported.

Progress is expected on the west route gas pipeline negotiations, Chinese Vice-Foreign Minister Cheng Guoping said on Oct 8 at a news briefing.

Wang Yiwei, director of the Institute of International Affairs at Renmin University of China, said these projects will improve trade and investment cooperation between the countries.

"The swap between the renminbi and ruble can benefit businesspeople in the two countries, whose profits were affected due to the monetary easing policy in the US since they have to make settlements in dollars," Wang said.

In addition to traditional energy cooperation, Wang said potential is also great in Russia's high-tech industries such as aerospace.

He said China is ready to coordinate its economic restructuring with Russia's move to rejuvenate the Far East region, and China's development of the traditional industrial belt in the northeast will offer great opportunities for cooperation.

"The natural gas pipeline running through Northeast China will not only inject fresh vitality into this region, but also help improve the structure of energy consumption in all of China."

China and Russia made significant breakthroughs on the China-Russia East Route natural gas pipeline and other large-scale joint projects in May.

The pipeline, in Yakutsk, capital of the Saha-Yakutia republic, started construction in early September. The pipeline will supply 38 billion cubic meters of natural gas to China every year starting from 2018.

Moscow is the second leg of Li's visit, after his three-day visit to Germany and before he meets Asian and European leaders at an Asia-Europe meeting in Italy.

During the three-day visit, Li and Russian Prime Minister Dmitry Medvedev will meet for the annual 19th Regular Prime Ministers' Meetings of China and Russia and attend the opening ceremony of a forum during which Li is scheduled to deliver a speech. Li will also meet with Russian President Vladimir Putin.

Li Hui, Chinese ambassador to Russia, said the regular meeting between Chinese and Russian prime ministers has given fresh impetus to pragmatic cooperation.

Igor Shuvalov, Russian first deputy prime minister, said during his visit to China last month that Russia is ready to open more areas of investment to Chinese investors and provide them with more favorable conditions and convenient financial services.

China has been Russia's top trading partner in the past four years. Two-way trade volume in the first five months of this year rose 4.3 percent year-on-year to $36.8 billion. China is also the fourth-largest source of investment for Russia, with a total of $32 billion pumping into the country.

Leaders of both countries have pledged to raise the trade volume to $100 billion by 2015 and $200 billion by 2020.

Please
contact us
in case of Copyright Infringement of the photo sourced from the internet, we will remove it within 24 hours.