President sets a new course with Venezuela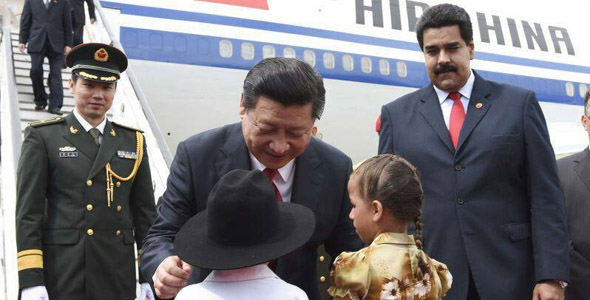 President Xi Jinping and his Venezuelan counterpart Nicolas Maduro clap after Xi was awarded the Order of the Liberator in the Venezuelan capital of Caracas on Sunday.
[Photo/Xinhua]

President Xi Jinping and his Venezuelan counterpart, Nicolas Maduro, agreed on Sunday to upgrade their countries' relations to a comprehensive strategic partnership.

Xi arrived in Caracas on Sunday on his first-ever state visit to the South American country.

It is also the first visit by a Chinese president to Venezuela in 13 years.

New cooperation agreements were signed on Monday in energy and mining, finance, infrastructure construction, agriculture, high-tech and other fields that will expand Chinese investment, facilitate local social and economic development and strengthen commercial ties between the two nations.

Maduro threw a warm welcoming ceremony, featuring honor guards and hundreds of local people dancing in colorful costumes.

After Xi's arrival, the two leaders held extensive talks for hours, during which the two sides decided to ramp up their bilateral ties into a comprehensive strategic partnership.

During a news conference with Maduro, Xi also said that, as a sincere friend, China supports Venezuela's development path as it suits its domestic situation, and that the current leadership is capable of handling domestic affairs while preserving stability and achieving economic development.

Xi said the two sides decided to continue to strengthen investment cooperation, as well as improve upstream and downstream cooperation in the energy sector, along with high-tech cooperation, including development of a remote-sensing satellite.

China is willing to actively participate in the planning and construction of economic zones in Venezuela, Xi said.

Maduro said there are various kinds of cooperation between China and Venezuela in many fields, and it is well-known among Venezuelan people that bilateral cooperation has brought big changes to their lives.

"We have established a framework for cooperation within all of the sectors of Venezuela. It will have a profound impact on the process of our country's industrialization and modernization, and it also has a significant meaning for our further development, especially the expansion in the energy sector," Maduro said. "China's development model is a worthy lesson for our country to learn from."

Zhao Rongxian, China's ambassador to Venezuela, said Xi's visit is a "milestone" because both countries are currently deepening their respective domestic reforms.

"The bilateral relationship will be promoted to a record high at a strategic level, and will provide powerful driving forces for the two peoples to realize their shared dreams," Zhao said.
Venezuelan children wave flags as they welcome President Xi Jinping at Simon Bolivar airport in Caracas on Sunday. [Photo/Agencies]
A four-point plan


President Xi Jinping put forward a four-point proposal to lift China-Venezuela relations to a partnership that features strategic mutual trust, comprehensive cooperation, mutual benefits and win-win results, as well as common development.

First, the two countries' heads of state should maintain frequent contact, and their governments, parties and legislatures should beef up exchanges to strengthen strategic planning, deepen political mutual trust and continue to support each other on issues concerning their core interests.

Second, China and Venezuela should work for concrete results:

• The two countries should strengthen top-level design to develop multi-tier cooperation in the fields of finance, investment and energy.
• The countries should make good use of their cooperation mechanism in finance to promote cooperation in the areas of mining, infrastructure construction and science and technology.
• China is ready to expand satellite-technology transfers to Venezuela, and it encourages Chinese companies to participate in the construction of Venezuela's special economic zone.

Third, the two countries should expand exchanges and communication. They should take the 40th anniversary of their diplomatic ties as an opportunity to boost cooperation in culture, education, tourism and media, in a bid to consolidate public support for bilateral ties.

Fourth, China and Venezuela should address their ties in the broader context of China-Latin America relations, cooperation of developing countries and the peace and development of the world as a whole.

China Daily
Please
contact us
in case of Copyright Infringement of the photo sourced from the internet, we will remove it within 24 hours.