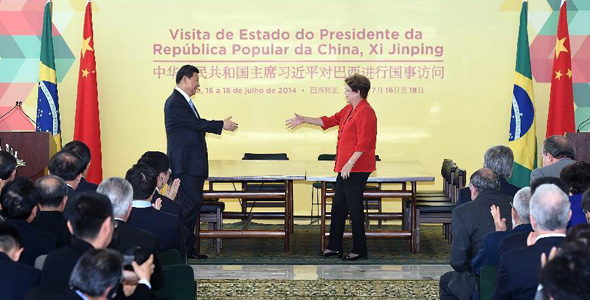 Chinese President Xi Jinping (L, rear) and his Brazilian counterpart Dilma Rousseff (R, rear) jointly meet journalists after their talks in Brasilia, Brazil, July 17, 2014. (Xinhua/Lan Hongguang)
China and
Brazil
signed Brasilia Thursday a series of agreements and memoranda in finance and other areas.
Chinese President Xi Jinping and Brazilian President Dilma Rousseff witnessed the signing of the deals.
The Export-Import Bank of China (Eximbank) and Brazil's mining giant CVRD signed a framework agreement, under which Eximbank would provide 5 billion U.S. dollars in three years to support the Brazilian company to purchase or lease equipment, vessels and related services from Chinese enterprises.
The Bank of China also signed a memorandum to help CVRD arrange global financing for three years.
China Construction Bank (CCB) signed with Brazil's Industrial and Commercial Bank a controlling stake agreement. On Oct. 31 of last year, the Brazilian bank announced that it has reached an agreement with CCB to sell 72 percent of its total stake to the Chinese bank.
China Development Bank and Brazil's National Development Bank ( BNDES) also signed a memorandum on infrastructure cooperation, so as to promote infrastructure development in Brazil and Latin America at large.
The Eximbank also signed a framework agreement with BNDES to strengthen cooperation in energy, infrastructure and telecommunications. China Export & Credit Insurance Corporation and the Bank of Brazil signed an agreement to boost ties in reinsurance business.
China and Brazil also sealed deals Thursday on projects involving cloud computing, search engines and the building of intelligent cities.

Xinhua
Please
contact us
in case of Copyright Infringement of the photo sourced from the internet, we will remove it within 24 hours.