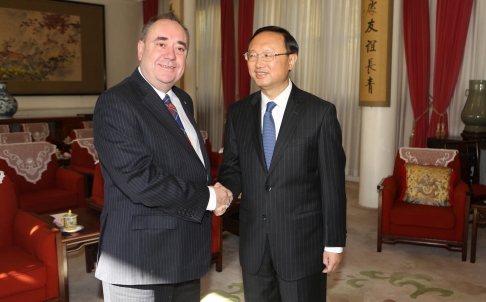 First Minister Alex Salmond meets State Councillor Yang Jiechi in Beijing
China's seemingly insatiable demand for the finest salmon is safe in Scottish hands, and there will always be more than enough whisky with which to wash it down.
So pledged Scotland's independence-seeking first minister, Alex Salmond, yesterday at the end of a five-day trade visit to Beijing and Hong Kong during which he made clear that China would become a key economic partner if the Scottish people voted to end their political union with the United Kingdom for the first time in more than 300 years.
Salmond, who is spearheading the campaign for a "yes" vote in the September 2014 independence referendum, also trumpeted what he described as a victory over British Prime Minister David Cameron by forcing him to reverse a decision to deny visas to two Chinese academics teaching in Scotland's growing number of Confucius Institutes.
Before his departure to Beijing, Salmond criticised the Home Office for the decision, branding it "ridiculous" and "deeply offensive".
In a letter addressed to Home Secretary Theresa May dated last Friday, Salmond complained that the refusal would "sabotage" a Scottish government initiative and damage its relationship with China. Scotland is part of the
UK
and has a devolved parliament.
In a separate letter addressed to Cameron, Salmond demanded a reversal of the decision. He wrote that he would be meeting Hanban, the Chinese government-backed agency that runs the Confucius Institutes, adding: "When asked about this … how do you suggest I explain this ridiculous policy?"
Yesterday, speaking exclusively to the South China Morning Post in Hong Kong, Salmond said: "It's embarrassing for the UK to pursue such a nonsensical policy. It was a ridiculous decision. When Scotland becomes independent … there won't be a difficulty. We shall be encouraging and welcoming."
China has been a key element in Salmond's drive to boost Scotland's economy. In his fourth visit to the mainland since he was elected in 2007, Salmond met State Councillor Yang Jiechi . He led a delegation of 30 Scottish firms that signed deals worth £40 million (HK$498.5 million) and met high-level executives in oil companies CNOOC and Sinopec, two major investors in the North Sea.
The first minister said salmon exports to China had increased by 88 per cent in the past five years and denied a report in The Guardian newspaper that Scotland was struggling to meet demand.
Salmond was careful not to cross the line on sovereignty, however. Asked to comment on Taiwan and Tibet's independence demands, he said: "The referendum is an agreed process. This is the way that countries should approach such matters. The Scottish case is defined by the agreement [signed between Scotland and UK] and should not be compared with others."
Salmond, who faced criticism for not meeting Tibetan spiritual leader Dalai Lama in 2012, said he was visiting Scotland as a religious, not a political leader.
"He was received as a pastoral leader. Our view is that you shouldn't confuse the two things," he said.

South China Morning Post
Please
contact us
in case of Copyright Infringement of the photo sourced from the internet, we will remove it within 24 hours.