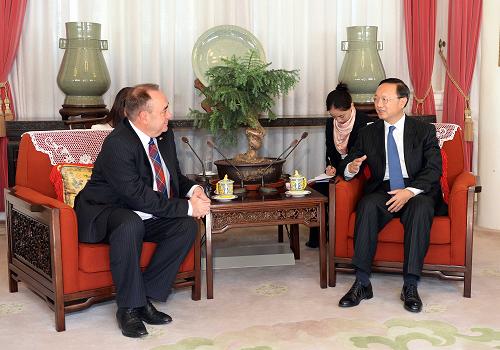 First Minister Alex Salmond meets State Councillor Yang Jiechi in Beijing
China's seemingly insatiable demand for the finest salmon is safe in Scottish hands, and there will always be more than enough whisky with which to wash it down.

On November 4, 2013, State Councilor Yang Jiechi met at the Zhongnanhai compound with Scotland's First Minister Alex Salmond and his delegation, who were invited to visit China by the Chinese People's Association for Friendship with Foreign Countries.
Yang Jiechi introduced the current China-
UK
relations and said that China attaches importance to developing friendly relations with Scotland and appreciates the Scottish government's constant attention to the cooperation with China. The two sides had a friendly conversation on enhancing economic, cultural, non-governmental exchanges and cooperation between China's municipal or provincial administrations and the Scottish government.
Related News in Chinese:
杨洁篪会见英国苏格兰地方政府首席部长萨蒙德

China Daily
Please
contact us
in case of Copyright Infringement of the photo sourced from the internet, we will remove it within 24 hours.