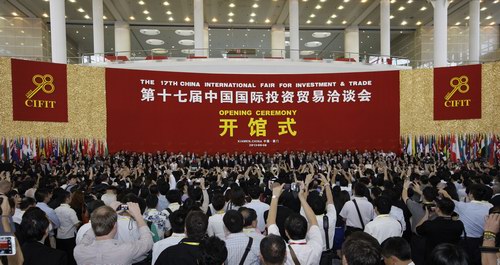 The 17th China International Fair for Investment and Trade (CIFIT) was inaugurated in Xiamen on September 8, 2013. Ma Kai, Vice Premier of State Council, Wang Qinmin, Vice Chairman of CPPCC and Chairman of All-China Federation of Industry and Commerce attended.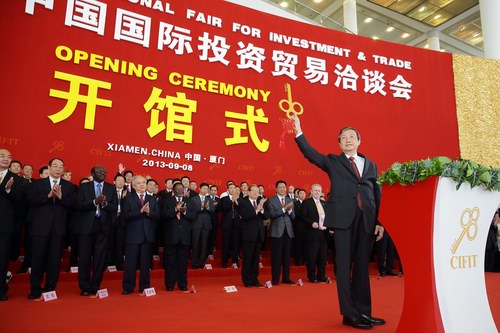 Marco Hausiku, Vice Premier of the Republic of Namibia, MukhisaKituyi, Secretary-General of United Nations Conference on Trade and Development (UNCTAD), Rintaro Tamaki, Deputy Secretary-General of the Organization for Economic Co-operation and Development (OECD), Richard Sezibeba, Secretary-General of East African Community, You Quan, Secretary of the CPC Fujian Provincial Committee and Director of Provincial People's Congress, and representatives of business government officials, and international organizations from more than 100 countries and regionswere present at inauguration.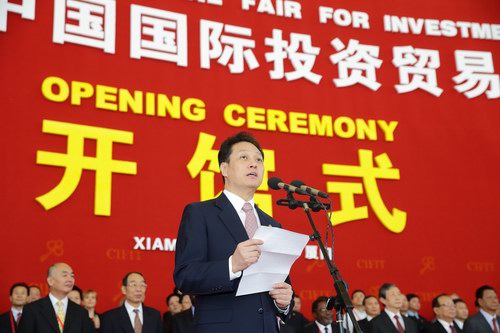 Wang Chao, Vice Minister of Commerce gave a speech at the inauguration. He said that currently, countries in the word are economically interdependent and their interests are interwoven. China unswervingly carries out proactive, mutual benefit and win-win opening strategy, cooperating with governments of other countries and international institutions, to promote a healthy, sustainable and innovative development of world's economy. It is hoped that friends from all walks of life will take advantage of this CIFIT, making friends, finding business opportunities, negotiating deeply and reaping the benefits.

The CIFIT is sponsored by China's Ministry of Commerce, and co-sponsored by UNCTAD, UNIDO, OECD, IFC, WAIPA and CCIIP. It has developed into a significant platform for international investment and trade. The 17th CIFIT will continue to implement the "eight rules" stipulated by Central Committee of CPC, holding the meeting economically and practically, and cancelling parties and dinners.

Ministry of Commerce Website
Please
contact us
in case of Copyright Infringement of the photo sourced from the internet, we will remove it within 24 hours.