Jamaican Governor-General Patrick Allen and visiting Chinese Vice Premier Hui Liangyu vowed Monday to lift bilateral relations to a higher level.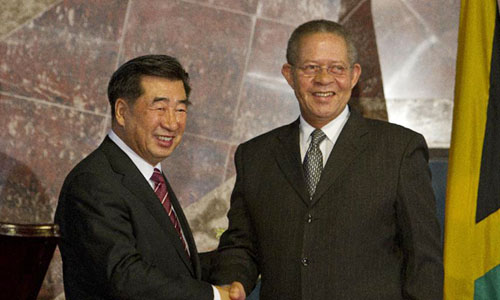 During their meeting, Hui said China-
Jamaica
relations have made rapid progress since the two countries established diplomatic ties about 40 years ago.
Bilateral relations entered a new era of development in 2005 when the two sides upgraded their relationship to a friendly partnership for common development, said Hui.

In recent years, high-level exchanges have been enhanced and political mutual trust deepened, and mutually beneficial cooperation in economics and trade, investment, finance and infrastructure has been fruitful, he said.

The two countries have also expanded exchanges and cooperation in culture, education and sports, and enhanced coordination in regional and global affairs, he said.

Therefore, Jamaica has become an important partner of China in the Caribbean, said Hui.

China attaches great importance to its relations with Jamaica and stands ready to work with it to further carry forward the partnership for common development.

Allen, for his part, thanked China for supporting Jamaica's economic and social development, saying his country and China are good brothers and good friends.

He said productive cooperation in economics and trade and more cultural exchanges have boosted bilateral relationship.

Allen expressed the hope that the two sides would maintain the current momentum and push Jamaica-China ties to a new high.

Xinhua
Please
contact us
in case of Copyright Infringement of the photo sourced from the internet, we will remove it within 24 hours.