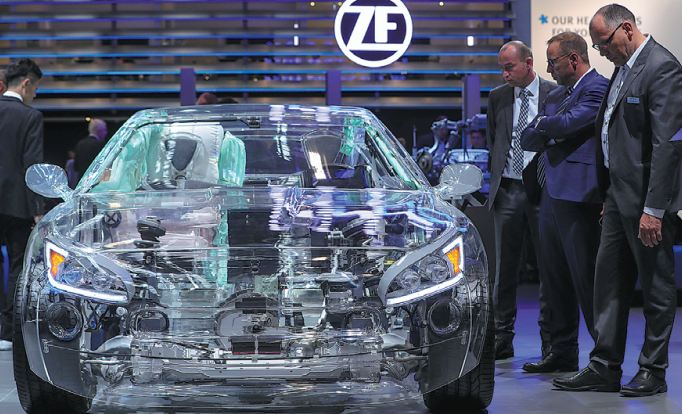 A transparent automobile sits on display at the ZF Friedrichshafen AG exhibition stand during the IAA Frankfurt Motor Show in Frankfurt, Germany. [Photo/Agencies]
FRANKFURT - This year's International Motor Show (IAA) in Frankfurt was held at a time marked by both industrial transformation and deep uncertainties in global trade, with a lower number of exhibiting brands and a smaller exhibition area.
With interest in both electrification and new technologies, the Chinese and German auto sectors managed to deepen their cooperation despite the global headwinds in trade.
Some 800 exhibitors registered for the IAA this year. China, with several companies attending the show, held first place in having the largest number of international exhibitors.
Chinese carmakers like Great Wall Motors and startup Byton all held events revealing their new cars on the first media day, presenting mostly vehicles in the premium segment. The booths of Chinese brands were frequented by their German peers a number of times during the exhibition.
Executives from Chinese car companies did not miss the chance to visit the booths of German manufacturers such as BMW, Daimler and Volkswagen, which likewise showcased their latest product portfolios at the IAA.
Industry observers said the concept cars and mass-produced models of both Chinese and German brands this year demonstrated the trend toward electrification and intelligent vehicles, areas where their future cooperation could focus.
Some newly announced projects confirmed the deepening cooperation, including a long-term strategic agreement announced in early September between Robert Bosch GmbH and Contemporary Amperex Technology Co Ltd (CATCL) to develop high-performance battery cells.
German carmakers such as Daimler, BMW and Audi also partnered with leading Chinese technology companies such as Tencent, Alibaba, and Huawei to develop future mobility solutions involving intelligent, connected vehicles and autonomous driving.
The Chinese market is extremely important not only because of its sheer volume and size, but also for its role among the leading markets of the world in future technologies such as autonomous driving and digitalization, said Nicolas Peter, a member of the board of management of BMW AG for finance.
Peter said the company has been scouting out possibilities to invest in startups in China "because we clearly can experience the creativity of the industry." This is a clear example of how cooperation in the auto sector has been carried forward on various fronts.
Stefan Hartung, member of the board of management of Robert Bosch, said: "The company has been actively engaged with its Chinese partners and continues to invest in R&D centers, factories, and capabilities in China."
A number of German companies emphasized the importance of the Chinese market, and have pursued an "in China, for China" strategy with tailored models and localized production. Furthermore, some of them are shifting toward an expanded strategy of "in China, for the world."
Peter said BMW is optimistic about the Chinese market and plans to kick off the production of fully electric iX3 models in its plant in Northeast China's Shenyang province next fall and export those cars to markets worldwide.
"This underlines again the relevance of the Chinese market for the BMW Group," he added.
Amid a worldwide industry slowdown, no single player in the car industry would be spared, Ferdinand Dudenhoeffer, automotive expert at the Center for Automotive Research under the University of Duisburg-Essen, told Xinhua, adding that Germany should open up its market more for Chinese companies.
Chinese companies have taken steady steps in tapping into the German market. For instance, CATCL plans to build a battery plant in Erfurt and carmaker startups Byton and Nio have already built design centers in Munich.
Byton chief-of-staff Ding Qingfen said German employees took part in every stage of product making, from technology, design to marketing and PR. German and Chinese staff learn from each other, Ding said.
Zhang Hui, managing director of Nio Germany, said all carmakers, be it old or new, Chinese or German, face the same challenge of directing consumers away from traditional combustion engines and toward new power systems.
Only if the entire market for new energy vehicles is made bigger can each player get a bigger slice of the pie, Zhang said.
Please
contact us
in case of Copyright Infringement of the photo sourced from the internet, we will remove it within 24 hours.