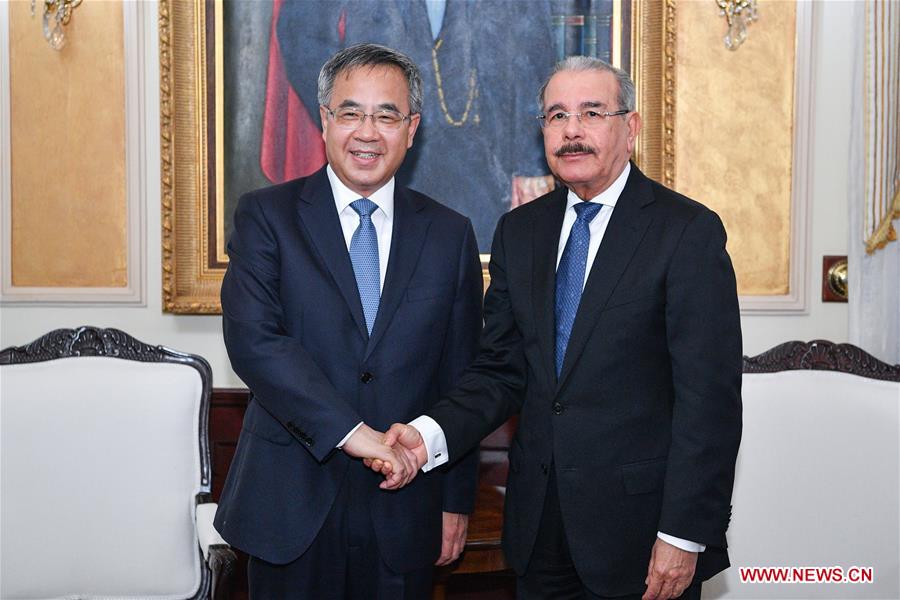 China and the
Dominican Republic
have vowed to strengthen bilateral ties and deepen cooperation in a wide range of areas.
President of the Dominican Republic Danilo Medina and visiting Chinese Vice Premier Hu Chunhua voiced the wish at their meeting here on Monday.
Hu conveyed President Xi Jinping's warm greetings and good wishes to Medina.
Hu said that during his first state visit to China last November, Medina held historic talks with Xi, in which both leaders pointed out the direction for the development of the two countries' relations.
As long as the two sides jointly strengthen the political foundation of bilateral relations and actively deepen mutually beneficial cooperation and people-to-people exchanges in various fields, China-Dominican Republic relations will surely enjoy broader prospects of development, he said.
Hu said both sides are working hard to implement the important consensuses reached by the two heads of state last year and have already made important early achievements.
Hu voiced his hope that both sides will actively promote the construction of the Belt and Road, and strengthen cooperation in the fields of electricity, ports and highways, and continue to consolidate public support for bilateral relations.
For his part, Medina said that during his visit to China last year, he and Xi have reached important consensuses on the development of bilateral relations, and he is satisfied with the progress made in the implementation of the outcome of the visit.
The establishment of diplomatic relations with China has opened up a new era for Dominican Republic-China relations and led to the rapid development of cooperation in various fields, he said.
Medina added that the establishment of diplomatic relations between the two countries has received wide support from various sectors in his country and will never waver.
He thanked China for its support and help, saying that his country backs the Belt and Road Initiative. He hopes that the two countries will continue to strengthen cooperation in economy, trade, investment, tourism, infrastructure and culture, and promote the continuous development of bilateral relations.
On Monday, Hu also held talks with the Administrative Minister of the Presidency Jose Ramon Peralta, and Minister of Foreign Affairs Miguel Vargas, in which the two sides exchanged views on promoting practical cooperation in agriculture, investment, culture and tourism.
Please
contact us
in case of Copyright Infringement of the photo sourced from the internet, we will remove it within 24 hours.