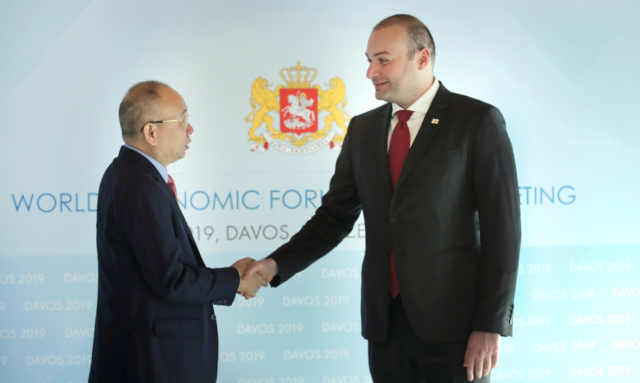 On January 22, Prime Minister Mamuka Bakhtadze met with Lyu Benxian, the President of the Chinese Misheng Investment Group to discuss Georgia's investment environment. The pair met during the World Economic Forum which is taking place in Davos, Switzerland from 22-25 January.
Bakhtadze and Benexian discussed the growth of Georgia-China relations. In 2018, over 53 Georgian companies attended the China International Import Expo. The President of China Xi Jinping personally invited Bakhtadze to attend the event.
Benxian believes that recent developments in Georgia are creating a favorable environment for investors.
"Georgia is our friend. During the last few years, Georgia has been rapidly developing and a favorable policy for investments has been introduced. Our goal is to try to use this opportunity. We want to discuss the possibility of investing in Georgia," he said.
The China Misheng Investment Group is a private equity firm based in Shanghai. They mainly invest in energy, real estate, healthcare, and financial sectors. It is a leading private global investment group with $15 bln of registered equity.