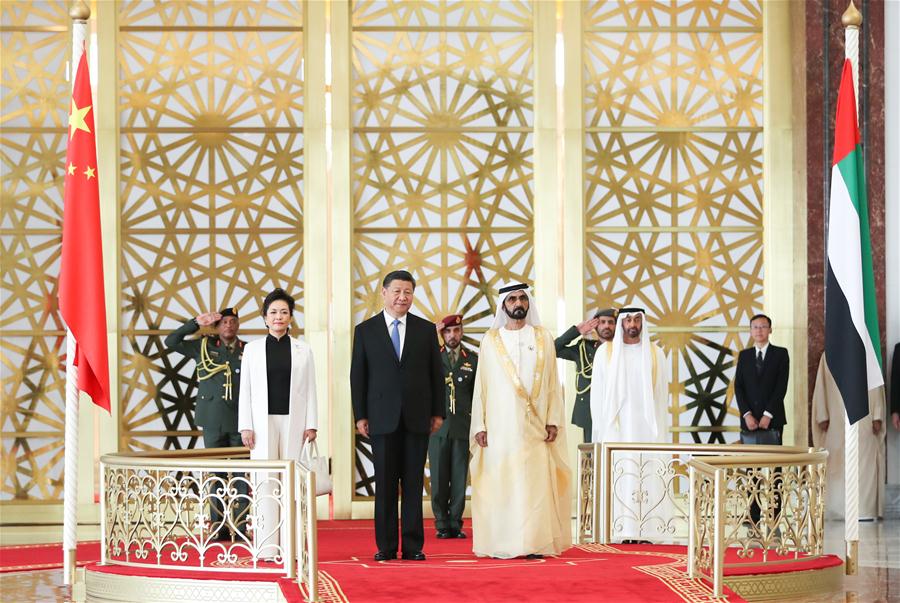 Chinese President Xi Jinping arrived here on Thursday for a state visit to the
United Arab Emirates
(UAE), the first by a Chinese head of state in 29 years to the Arab state.
Xi's plane was escorted by the UAE fighter jets when it entered the country's air space.
Upon their arrival, Xi and his wife, Peng Liyuan, were warmly received by the UAE Vice President and Prime Minister Sheikh Mohammed bin Rashid Al Maktoum and the Crown Prince of Abu Dhabi Sheikh Mohammed bin Zayed Al Nahyan. They were also presented with flowers by some local children.
The UAE's vice president hosted a welcome ceremony for the Chinese president at the airport.
A 21-gun salute was fired while Xi and his wife Peng inspected the guard of honor. Xi held cordial talks with the vice president and the crown prince.
On behalf of the Chinese government and the Chinese people, Xi sent sincere greetings and good wishes to the UAE government and the UAE people.
Since the establishment of their diplomatic relations 34 years ago, China and the UAE have always been respecting each other and treating each other as equals, Xi said, adding that bilateral ties have seen remarkable progress with fruitful pragmatic cooperation achieved in various fields.
He said that the UAE is the first stop of this overseas trip, and also the first country he visits since his re-election as President of the People's Republic of China.
This shows that China attaches great importance to its relationship with the UAE, he stressed.
Xi said that he has felt the enthusiasm and friendliness of the UAE people as soon as he had arrived in Abu Dhabi, and that he was deeply moved by that.
The Chinese president said he looks forward to exchanging views with the UAE leaders in an in-depth way on advancing bilateral relations.
Xi expressed his confidence that the visit will be a great success with efforts made from both sides and will help further cement the friendship between the two countries and the two peoples.
The UAE vice president and the crown prince warmly welcomed Xi's state visit, calling Xi an old friend and a good friend of the UAE people.
It is a great honor that Xi chooses the UAE as the first stop of his overseas trip after re-election as Chinese president, said the UAE leaders.
People from all walks of life in the UAE are eagerly looking forward to Xi's visit, which they think will be of historical significance and will help further promote the development of bilateral strategic relations in a forceful way, said the UAE leaders.
After the UAE, Xi will pay state visits to Senegal, Rwanda and South Africa, attend the 10th BRICS summit in Johannesburg, and visit Mauritius during a stopover.
Please
contact us
in case of Copyright Infringement of the photo sourced from the internet, we will remove it within 24 hours.