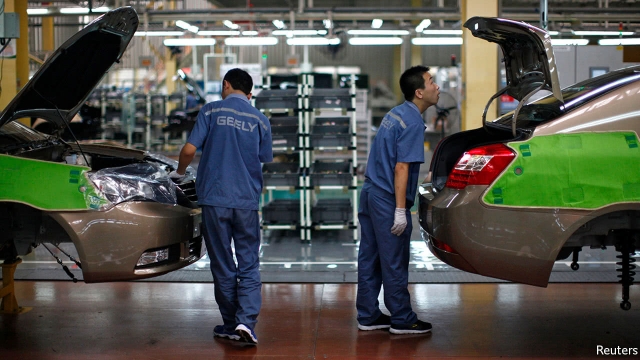 A COMPANY that moves up the value chain from refrigerator parts to cars is impressive but not that surprising. A car company that buys an investment bank is audacious. But Zhejiang Geely Holding Group, a conglomerate based in Hangzhou, China, did not become big by paring its ambitions. Having successfully made the fridge-parts-to-cars transition at home, it went global in 2010. It acquired Volvo, a Swedish carmaker, from Ford of America. Now Geely is back in Scandinavia for another acquisition. This time it is buying one of Denmark's biggest banks.
Saxo Bank announced on October 2nd that Geely would acquire 51.5% of its shares. It will spend over $800m on the deal, which still requires regulatory approval. Sampo Group, a Finnish insurance company, will acquire 19.9% of Saxo shares for €265m ($311m), and Kim Fournais, Saxo's co-founder and chief executive, will retain 25.7%. The sellers are Sinar Mas, an Indonesian conglomerate, and TPG, an American private-equity firm.
Saxo was an early adopter of online securities trading and still invests heavily in financial technology. It makes a substantial portion of its profits from selling trading platforms to other firms. Daniel Donghui Li, Geely's chief financial officer, says Geely hopes to expand Saxo's technologies into Asia. Besides facilitating this expansion, Geely does not intend to change how Saxo operates, let alone change its business model to finance car sales.
Geely is not the first Chinese firm to take control of a European bank. In September Legend, the largest shareholder of Lenovo Computers, announced that it would acquire 89.9% of Banque Internationale à Luxembourg, the oldest private bank in the Grand Duchy, from a Qatari company. Legend said it wanted to provide banking services to companies taking part in China's flagship "Belt and Road" project to build a latter-day Silk Road to Europe.
Other Chinese firms have bought smaller stakes in European banks. In May HNA Group, a part-owner of Hainan Airlines, increased its holding in Deutsche Bank to 9.9%, becoming its largest shareholder. Fosun, a big consumer group, owns 24% of Millennium BCP, Portugal's largest listed bank. Unlike Geely, however, Legend, HNA and Fosun have experience in the Chinese financial sector.
Geely's purchase of Saxo Bank suggests that Chinese companies are gradually regaining their appetites for foreign deals, even outside their core businesses. According to Edward Tse, chairman of Gao Feng, a firm that advises on the Chinese market, the Chinese regulations were primarily directed at a few companies that "splashed cash" on unwise deals. Geely, seen as having already successfully swallowed one prestigious foreign firm, may worry the authorities less.

Source: The Economist
Please
contact us
in case of Copyright Infringement of the photo sourced from the internet, we will remove it within 24 hours.