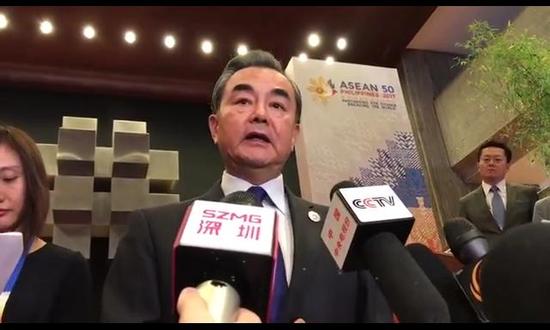 China enjoys good relations with Malaysia and Australia and hopes to expand cooperation with them in all aspects in the future, Chinese Foreign Minister Wang Yi said here Sunday.
Wang made the remarks while meeting with his Malaysian and Australian counterparts separately on the sidelines of a series of ASEAN foreign ministers' meetings in Manila.
Wang said that the China-proposed Belt and Road Initiative (B&R) is a historical opportunity for China and Malaysia to build better relations as some projects they agreed under the framework of B&R have made progress.
Wang said China will continue to encourage and support Chinese enterprises to invest in Malaysia and cooperate with Malaysian enterprises.
China hopes to enhance cooperation in defense and law enforcement and other areas with Malaysia and help implement the East Coast Rail Link and other big projects smoothly, Wang said.
For his part, Malaysian Foreign Minister Anifah Aman said taking China as a close friend, Malaysia appreciates and cherish its friendship with China.
He also hopes to further strengthen the two countries' cooperation in every aspect and deal with any problem properly in their relations.
When meeting with Australian Foreign Minister Julie Bishop, Wang pointed out that Australia can be China's lasting, stable and expectable partner as both of them belong to a big family of Asia-Pacific countries.
China is willing to expand cooperation in all areas that are beneficial to each other and make sure the China-Australia comprehensive strategic partnership can make improvements along a right track, he said.
Bishop said Australia-China relationships have developed to a new level as they are close partners in many aspects and have more interactions between their high-level officials recently.
She emphasized that Australia is committed to strengthening constructive cooperation and promoting free trade globally with China.

Source: xinhua
Please
contact us
in case of Copyright Infringement of the photo sourced from the internet, we will remove it within 24 hours.