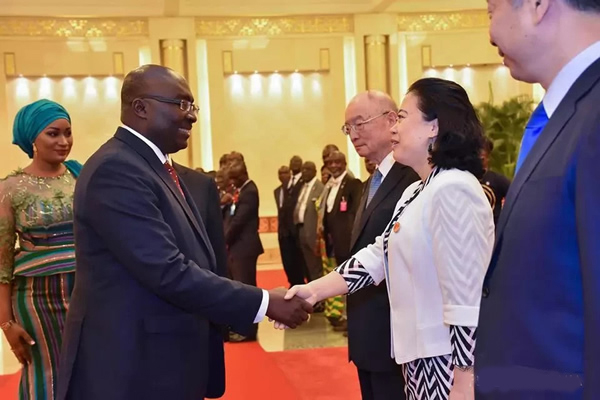 Vice President Dr Mahamudu Bawumia during his recent visit to China
Currently, more than 3,000 Chinese Enterprises are investing in Africa, with more than 100 billion dollars gross assets.
Madam Sun Baohong, Chinese Ambassador to Ghana, said this at a Conference on China-Africa Relations, which was recently held in Accra.
She said China had constructed for Africa, railways and roads surpassing 7,000 kilometres in length, and had aided Africa over 1,000 set projects such as schools, hospitals and sports stadia.
Ambassador Sun revealed that nearly half of the 60 billion dollar support funding that China pledged to Africa, had been disbursed or arranged since the Johannesburg Summit of the Forum on China-Africa Corporation.
On May 31, 2017, China's financing of the Mombasa-Nairobi Railway, linking the largest port city and the capital of Kenya, was officially launched, said Ambassador Sun.
The Chinese Ambassador added, that estimates showed, that the railway would reduce the cost of freight in East Africa by 79 percent, as well as the cost of business by 40 percent and the transit time by half.
She observed that the industrial capacity cooperation between China and Africa was ever increasing.
"Chinese companies have established seven industrial parks in Zambia, Mauritius, Nigeria, Egypt and Ethiopia," said Ambassador Sun.
"We will unceasingly tap new potential of China-Africa comprehensive cooperation, create new economic growth engines, implement the United Nations 2030 Agenda of sustainable Development, and help Africa realise green sustainable development," Ambassador Sun said.
She added that with China-Africa relations reaching the best stage in history, where it was faced with unprecedented opportunities, "China would continue to make contributions to the economic transformation and sustainable development of Africa."

Source: Myjoyonline
Please
contact us
in case of Copyright Infringement of the photo sourced from the internet, we will remove it within 24 hours.