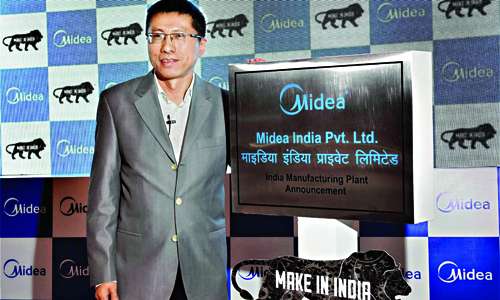 Chinese consumer durables major Midea Group said it will invest ₹800 crore to set up a manufacturing facility in India. The company said that the factory will manufacture refrigerators, washing machines and water appliance products such as water purifiers and water heaters.
The plant, which is being set up in Pune, is expected to become operational by 2018 end. The investment will be made over a period of five years. This will also be one of the biggest investments to be made by Midea Group outside China.
In 2012, Midea Group had entered India through a joint venture with Carrier to form Carrier Midea India, which manufactures and sells air-conditioners in the country.
Andy Gu, Vice-President, Midea Group, said: "The whole macro-economic situation in India is very favourable. Factors such as India's GDP growth, government policy and consumer confidence all add up and makes this one of the best times to invest in the country. India is one of the fastest growing markets and we see a huge potential."
The plant will have the capacity to manufacture 5 lakh refrigerators, 6 lakh washing machines and 10 lakh water appliance products.
In addition, Midea Group's Parts & Components Divisions GMCC and Welling will also be setting up exclusive manufacturing facilities to manufacture compressor & motors for appliances.
"Besides "Make In India", we are also focusing on "Designed in India". We want to develop products based on Indian consumer insights. We believe we need to understand the consumer's needs to offer them the relevant products," he added.

Source: BusinessLine
Please
contact us
in case of Copyright Infringement of the photo sourced from the internet, we will remove it within 24 hours.