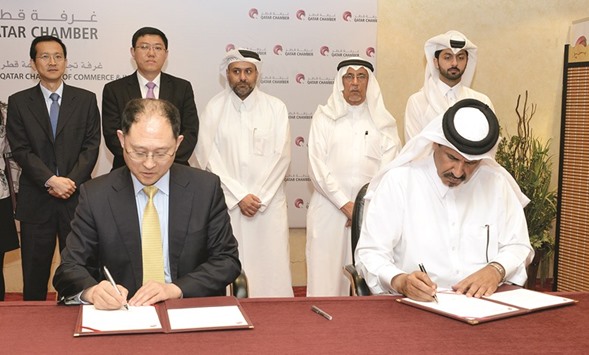 Qatar Chamber vice-chairman Mohamed bin Towar al-Kuwari and China Council for the Promotion of International Trade vice chairman Lu Pengqi signing cooperation agreements during the 'Qatari-Chinese Seminar' held at the Qatar Chamber headquarters on
April 02 2017
.
Chinese direct investments to Qatar increased 77.5%, while accumulated contracting revenue of China in Qatar stood at $1.12bn in 2016 amid low bilateral trade due to the slump in oil prices, an official said.
According to figures provided by the Qatar Chamber during yesterday's 'Qatari-Chinese Seminar', the total trade volume between Qatar and China stood at QR17.5bn in 2016 and QR21.5bn in 2015.
"China is also an important trading partner for Qatar. In 2016, China-Qatar bilateral trade decreased due to the drop in oil and gas prices. But the direct investment of China to Qatar continued to increase 77.5%, while the accumulated contracting revenue of China in Qatar reached $1.12bn.
"This proves that the bilateral, economic, and commercial cooperation has greater potential and also fits the long-term benefit interests of both countries," China Council for the Promotion of International Trade vice-chairman Lu Pengqi said in his speech during the event held at the Qatar Chamber headquarters.
Qatari imports from China comprise of articles of iron and steel; flat rolled iron; bars, angles, and shapes of steel; aluminium plates, sheets and strips; copper tube and pipe fittings; and railway or tramway track construction heavy tools and equipment, among other products.
On the other hand, Qatari exports to China include liquefied natural gas; minerals, fuels, petroleum oil and petroleum products; plastics and its products; and miscellaneous petrochemical products, data from Qatar Chamber said.
Aside from the energy sector, Pengqi said China looks to develop investment opportunities and enhance cooperation in other fields like the construction, finance, and services.
"Qatar has also achieved great development and it is one of the most stable and fast-growing Arab countries and China is willing to extend two-way investment and optimise the trading structure on the base of mutual cooperation and promote more non-oil and gas export from Qatar to China," he stressed.
During the seminar, Pengqi signed a cooperation agreement with Qatar Chamber vice-chairman Mohamed bin Towar al-Kuwari to boost cooperation between the two organisations and attract more partnerships between Qatar and China's private sectors.
The two officials also signed a memorandum of understanding for the chamber's membership in the 'Council of the Economic Belt of the Silk Road' and the 'Silk Road of the 21st Century' or 'Belt and Road'.
Al-Kuwari said the 'Belt and Road' was an initiative launched by Chinese President Xi Jinping in 2013 aimed at reviving trade between China and Arab countries.
Qatar Financial Centre Authority chief executive Yousuf Mohamed al-Jaida, who was present during the event, said in a speech that the centre "is closely monitoring" economic developments in China as it seeks to attract Chinese companies in Qatar's financial services sector.
In 2015, al-Jaida said Qatar launched the Mena region's first renminbi centre in the country, "which has helped attract more trade transactions in the Chinese currency."

GulfTimes
Please
contact us
in case of Copyright Infringement of the photo sourced from the internet, we will remove it within 24 hours.