China Becomes Largest Source Outbound Hotel Investment in 2016.
A combination of lower confidence around income growth and geopolitical events caused hotel investors to adopt a more conservative strategy in their investment decisions in 2016.


Global hotel transaction volumes in 2016 returned to levels similar to 2014 at US$60.1 billion, a 35% drop from the stellar levels experienced in 2015.

Cross-border investment remains an important source of capital, with mainland China becoming the largest source of outbound capital, accounting for around half of total outbound hotel investment in 2016.

U.S. remains most liquid market as global hotel investment falls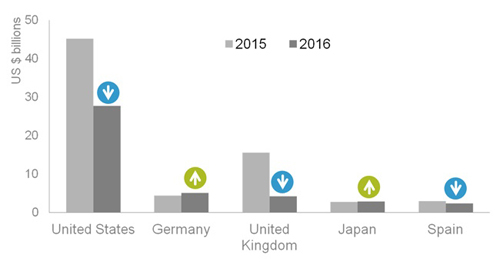 Source: JLL, February 2017
Cross-border investments - China behind the steering wheel

In 2016, Chinese investors overtook the Middle East as the largest source of outbound capital, with investment levels reaching a new high at US$9.8 billion, a 75% uplift from 2015. Mainland Chinese investment now accounts for around half of total outbound hotel investments. With only slow upward movement in oil prices, outbound hotel investment from Middle Eastern investors is expected to hold largely flat in 2017.

Increased buying activities from institutional investors

Institutional investors saw the largest uplift in buying activity in 2016. Transaction volumes by this group doubled to approximately US$11 billion, taking up 20% of market share, compared to 6% in 2015. Around 70% of transactions took place in the Americas.

U.S. remains most liquid market

The United States continued to be the most liquid market in 2016, despite deal volumes falling 35% short of 2015. International investors remain active buyers of U.S. hotel assets despite the strong currency and global economic uncertainty. We expect that the U.S. hotel sector will carry on attracting significant international investment given the ongoing financial instability abroad, relatively attractive yields and the country's continued status as a financial safe haven.

Germany overtook the UK as the second most liquid global market in 2016 with a number of high-profile portfolio deals transacting over the year. The UK saw a 73% drop in hotel investment transactions, with much of the decline attributed to the decrease in portfolio transactions.

While London is still the most desired investment destination nationally, the lack of available product for sale and the gap between buyer and seller expectations has drawn investors to key regional markets, evident through the significant increase in transaction activity in Birmingham and Manchester.

In Asia Pacific, Japan's booming tourism industry has attracted a growing interest from Chinese investors evaluating purchases in the hotel market.

More M&A activity anticipated

Slowing income growth is leading to a focus on cost savings and operating synergies. Marriott International's purchase of Starwood Hotels & Resorts Worldwide was finalised in the third quarter of 2016.

Meanwhile, Anbang Insurance Group's purchase of Strategic Hotels & Resorts was another prominent acquisition in the industry. At the same time, Hilton Worldwide Holdings has split its lodging, timeshare and real estate business into three different entities, in order to separate its management and real estate ownership companies.

These dynamics suggest that key players in the industry are looking to remain competitive in the marketplace through efforts that align to their specific growth strategies.

Endurance Against The Odds

A year of resets and changes stands to make way for a year of stability and greater consistency for investment flows. Our total global expectation for hotel real estate transactions in 2017 is $60 to $62 billion, mirroring the level recorded in 2016.

4Hoteliers
Please
contact us
in case of Copyright Infringement of the photo sourced from the internet, we will remove it within 24 hours.