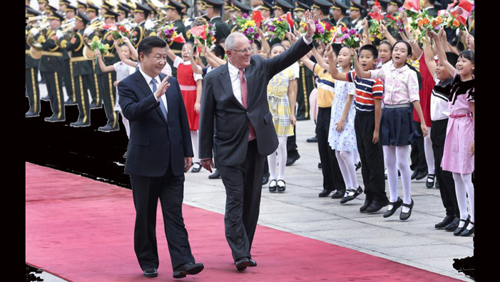 Chinese President Xi Jinping holds a welcoming ceremony for
Peru's President
Pedro Pablo Kuczynski
before their
talks outside the Great Hall of the
People in Beijing,
capital of China, Sept. 13, 2016.
President Xi Jinping's week-long state visit to three Latin American countries will strengthen their economic partnerships with China and promote mutual benefits, experts said.

Xi will visit Ecuador, Peru and Chile from Nov. 17-23 and attend the 24th Asia-Pacific Economic Cooperation Economic Leaders' Meeting from Nov. 19 to 20 in Lima, capital city of Peru.

The visit will lift mutual political trust and pragmatic cooperation to a higher level, sending a positive signal of China-Latin America relations, said Wu Hongying, director of the Latin America office of the China Institute of Contemporary International Relations.

It will be Xi's third Latin America tour since he became president in 2013. Bilateral trade has grown more than twenty-fold since 2000, hitting 236.5 billion U.S. dollars in 2015.

Ecuadorian bananas, Peruvian avocados and Chilean blueberries are well received in China, much the same way Latin Americans buy and use made-in-China cellphones, cars and construction machines.

This stellar growth in trade was dampened by a recent slump in commodity prices, but "the region still has huge growth potential and a bright outlook, with China's confidence in ties evidenced by Xi's visit," said Yue Yunxia, a researcher with the Institute of Latin American Studies (ILAS) under the Chinese Academy of Social Sciences.

"I believe we have seen a decade in which China has become a reliable partner, and it continues to be a crucial partner for Latin America," said Katalina Barreiro, an expert in Political Science and International Relations at Ecuador's Institute of Advanced National Studies.

Chile and members of the Pacific Alliance — a Latin American trade bloc — are expected to attract more investment from Chinese enterprises with their open markets and sound regulatory environment, said Chai Yu, a researcher with the ILAS.

Cooperation in sectors including agriculture, energy, infrastructure and information technology between China and Latin American countries are expected to deepen, as industry departments cement ties and prepare for greater synergy under China's Belt and Road Initiative, Chai said.

Latin American countries should actively participate in the initiative as an effective way to boost South-South connection and cooperation, Chilean Ambassador to China Jorge Heine told Xinhua.

"Chinese capital and technology will help Latin America," Jorge said, adding that Chile hopes to attract Chinese investment and boost digital technology cooperation.
The Belt and Road Initiative, consisting of the Silk Road Economic Belt and the 21st Century Maritime Silk Road and proposed by Xi in 2013, has brought together over 100 countries and international organizations in Asia, Europe and Africa via its land and maritime networks.

"During Xi's visit, China will put forward a blueprint on enhancing China-Latin America economic and trade cooperation," said Chen Fengying, an economist with China Institutes of Contemporary International Relations.

"Latin America, which is under pressure from economic transformation, needs the Chinese market, its production capacity, capital and experience in construction. China's proposal will be welcomed," Chen said.

Xi's first stop, Ecuador, for example, has sought to strengthen ties to expand cooperation and generate new trade opportunities in China, as well as encourage direct investment from China to access greater financing.

The oil-rich country is trying to wean itself off resource dependence and court more foreign direct investment for its industrialization, while China is expanding its opening up and equipment export.

Wang Yulin, China's ambassador to Ecuador, said the two developing economies are "natural partners" with huge potential for collaboration in production capacity, investment and clean energy.

China, the second-largest trade partner and third largest investment source country of Latin America, pledged in 2015 that it would increase total investment in the region to 250 billion U.S. dollars over the next decade.

The visit will further consolidate the traditional friendship between China and the three countries and lift mutual trust and substantial cooperation, Vice Foreign Minister Wang Chao said at an earlier press conference.

CCTV-America
Please
contact us
in case of Copyright Infringement of the photo sourced from the internet, we will remove it within 24 hours.