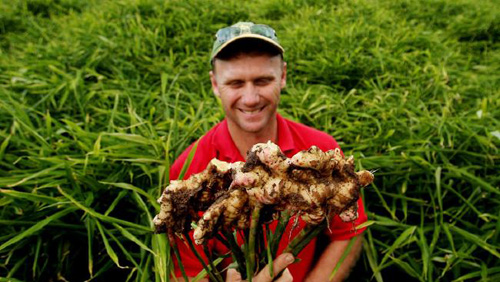 Australia's largest ginger producer, the iconic, publicly listed Buderim Ginger, has fielded a grab from Chinese investors who could soon own nearly half the company.

And one of those new Chinese investors is Albert Tse, businessman, former Macquarie Bank executive and husband to Jessica Rudd, the daughter of former Australian Prime Minister Kevin Rudd.

The Hong Kong-raised husband of Ms Rudd has secured a stake in Buderim Ginger, whose factory is only a short drive from the place of Mr Rudd's birth, Nambour.

It could mark the end of a 75-year chapter of local history, with Buderim Ginger tracing its roots to a small ginger growers' cooperative in southeast Queensland in 1941.

And the play comes at a time when Buderim Ginger has transformed its business to rely less on the sale of low-value commodity packages of ginger cubes or raw ginger, and pushed further into branded products such as a range of ginger flavoured drinks like Ginger Beer and Vodka — also known as a Moscow Mule — as well as ginger snacks and ginger chocolate.

Buderim Ginger announced this afternoon it would raise $26.1 million from two Chinese corporates, Asia Mark Development — a business associate of QiaQia Food Co, a Chinese publicly listed company on the Shenzhen Stock Exchange — and Wattle Hill RHC Fund, a private equity fund specialising in Australian businesses that benefit from China's growth.

A capital raising and issuing of new shares to the two investors will see them take an initial 23 per cent stake in Buderim Ginger as well as the right to appoint two directors to the board. However a convertible note, exercisable in three years, could see their stake climb to as much as 48 per cent.

Both Asia Mark Development and Wattle Hill are viewed as associates. QiaQia is one of China's largest modern snack production companies, specialising in roasted seeds and tree nuts. Its products are sold in over 900,000 retail outlets in China and in calendar 2015 it had revenues of $650 million and a market capitalisation of $1.78 billion.

Wattle Hill's team consists of Chinese-speaking investment staff with Australian education and professional backgrounds. It was founded by Albert Tse, a former legal representative of Macquarie Group in Beijing who styles himself as a specialist in Chinese outbound investments, especially into Australia.

An initial share issue of 6.5 million shares at 40 cents each will raise $2.6 million and represents 15 per cent of Buderim Ginger's issued capital. Later raisings will boost AMD's and Wattle Hill's stake to around 23 per cent, with the $26.1m raised to lower Buderim Ginger's debt to $10m from $23m.

It is the latest grab for an Australian food producer by Chinese interests. In the last few years China state-owned firm COFCO bought Tully Sugar mill, China's Fuyuan Farming has agreed to buy a majority share of Korumburra-based dairy group Burra Foods, and Hong Kong-listed company Biostime International bought vitamins company Swisse for $1.67bn. Earlier this year private Chinese company Moon Lake Investments bought Tasmania's Van Diemen's Land Company, Australia's biggest dairy farm, for $280m.

The deal with Buderim Ginger could give Chinese players eventual control of Australia's largest producer of ginger, with the Queensland group processing more than 3000 tonnes a year of Australian ginger in addition to ginger from Fiji.

From a small Ginger Growers Cooperative in 1941, to one of the world's leading ginger producers, Buderim Ginger is also a major processor and marketer of macadamia nuts through operations at Agrimac in NSW and at Macfarms in Hawaii. The farm in Hawaii is one of the biggest macadamia farms in the world.

The Australian
Please
contact us
in case of Copyright Infringement of the photo sourced from the internet, we will remove it within 24 hours.