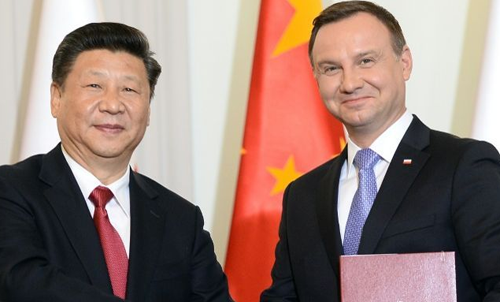 Chinese President Xi Jinping (L) and Poland's President Andrzej Duda shake
hands after signing a cooperation treaty in Warsaw, Poland.
The presidents of China and Poland greeted a Chinese freight train as it rolled into the Polish capital on Monday (Jun 20), part of a drive to drum up business between the Asian giant and the European Union's largest eastern economy.
China's Xi Jinping and his Polish counterpart Andrzej Duda were on hand as the China Railway Express ended its 13-day journey from Chengdu, capital of central Sichuan province.
Experts say Warsaw wants to use the rail link with China launched in 2013 to correct a chronic bilateral trade imbalance by exporting more farm products like milk, meat and apples.
Poland is China's largest trade partner in eastern Europe and in 2015 bilateral trade reached US$17.1 billion (€15.2 billion), according to Chinese figures.
The rail link - one of the world's longest - is part of China's "new silk road" for trade with Europe and is touted as a revival of the ancient Silk Road trade route.
Around 20 freight trains run between China and Poland each week carrying electronics, food stuffs, alcohol and car parts, according to Poland's PKP state railways. The journey takes 11-14 days, a fraction of the 40-50 day transit by sea.
Xi and Duda also bit into rosy Polish apples as they greeted the train. One of the EU's leading apple producers, Poland has been hit hard by a Russian import ban on the fruit, levelled in retaliation for EU sanctions on Moscow following its 2014 annexation of Crimea from Ukraine.
Thanks to deals sealed during Xi's visit, Poland can now start exporting apples to China.
'MULTI-BILLION SUMS'
Poland is also eyeing financing by the Asian giant.
Xi and Duda inked a broad strategic partnership deal on political and economic cooperation, part of Beijing's much vaunted efforts of establishing land and sea links for European trade, known as the "Belt and Road" policy.
China's head of state urged Poland to "fully take advantage of its position as a founding member of the Asian Infrastructure Investment Bank" (AIIB) to do business.
Launched by China in January, the AIIB includes several European countries among its members but the United States and Japan declined to join. It is viewed by some as a rival to the World Bank.
Calling the AIIB the "world's largest investment fund", Polish deputy prime minister Mateusz Morawiecki told reporters that Warsaw was discussing "massive investments" with Beijing.
"It is certainly still too early to say we've reached some kind of conclusion," he said, revealing only that "multi-billion sums" were involved.
Warsaw's drive for closer ties with Beijing is rooted in its "need for capital and export markets beyond Europe, because of the upcoming decrease in EU funds and saturation of the European market," said Justyna Szczudlik, an analyst with the Warsaw-based Polish Institute of International Affairs.

Channel News Asia
Please
contact us
in case of Copyright Infringement of the photo sourced from the internet, we will remove it within 24 hours.